BentoBox News
Pre-Order & Catering: A Better Way to Capture Advance Restaurant Orders
Restaurants need a more efficient way to handle pre-sell orders. Our latest update makes the process better — for everyone.
Digital pre-sell orders are a "win-win" for restaurants and customers.
Unfortunately, most restaurants lack the time, staff and budget to put an effective pre-sell ordering system in place. Instead, they rely on error-prone processes such as phone calls, tedious online inquiry forms and high-commission marketplaces that cut into their profits. Some do away with advance orders altogether, wanting to avoid the headache.
To address this, we're excited to launch our new Pre-Order & Catering product. Restaurants can license the best tool on the market for capturing advance orders, streamlining kitchen operations and turning pre-sell customers into repeat diners.
Why We Built Pre-Order & Catering
Our customers have been clear about the value of automating pre-sell orders, and the challenges they currently face. Based on those conversations, we developed Pre-Order & Catering to address four key value areas:
Improve Guest Experience: Placing advance orders doesn't need to be slow and painful. Our easy-to-use platform is designed for conversion, allowing guests to navigate menu items based on fulfillment date, customize orders and complete one-click payments. This customer-centric design results in a 98% checkout rate on cart additions for online orders.  

Drive More Revenue: Attract more people to your site with built-in tools for SEO, email and loyalty. This helps your brand capture more pre-sell orders directly, rather than through a high-commission marketplace. Between that and our low monthly pricing, restaurants typically hit positive ROI on their first pre-order sale of the month.

Reduce Manual Work: Rather than manually reading the menu, keying in orders, processing payments and recording customer details, front-of-house staff can focus on...everything else. But this doesn't come at the expense of control: You can still set order cutoff times, add lead times for menus and items and customize fulfillment dates and time windows. 

Streamline Order Prep: With existing solutions, kitchen staff struggle to know what to prepare and by when — especially in bulk. Pre-Order & Catering solves this with daily order summaries, production prep sheets and the ability to bulk download and print detailed views of all orders for a time period. Preparing bulk orders has never been simpler.
Every decision we made and feature we built into Pre-Order & Catering was designed to address these areas. Read below to see how it all comes to life, or click here to schedule a demo.
How it Works: The Guest Experience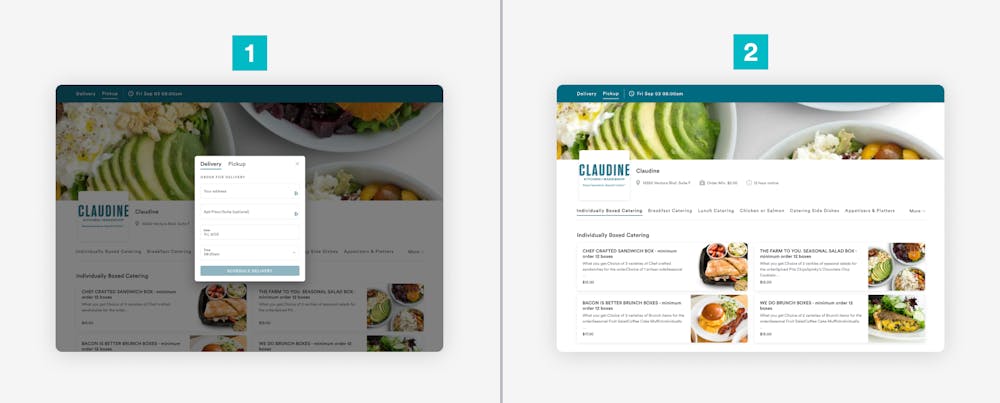 When a guest enters Pre-Order & Catering, they're immediately prompted to enter fulfillment information (Image 1). They select delivery or pickup, along with time and date, before viewing the menu.
Once they confirm timing, they access an easy-to-navigate menu interface (Image 2). The menu updates based on the fulfillment information, ensuring that they see the correct options for the date of their order.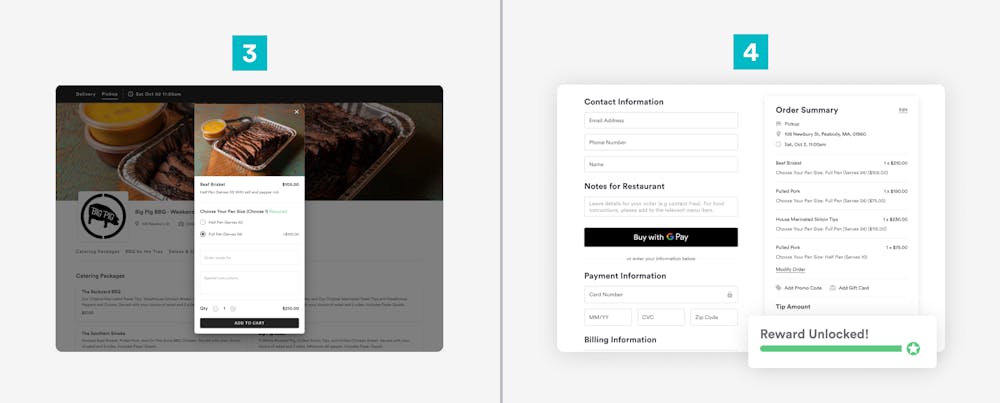 In addition to being easy-to-navigate, the menu allows for easy order customization (Image 3), similar to online ordering. Required fields are clearly marked for guests to complete upfront, reducing the need for back-and-forth with your staff.
Before guests check out, they review an order summary that allows them to make modifications (Image 4). The checkout process takes seconds with one-click tools such as Apple Pay, Google Pay and the ability to save payment info for future purchases. Diners can also enroll in your restaurant loyalty program, automatically earning rewards toward future purchases, with no additional login required.
Importantly, all of these features are also designed to work seamlessly across devices. More than 70% of restaurant website traffic comes from mobile, so prioritizing the cross-device experience is essential for driving purchases.
PRODUCT
Pre-Order & Catering
Capture advanced orders online with easy upfront payment and prep tools for your kitchen.
How it Works: The Restaurant Experience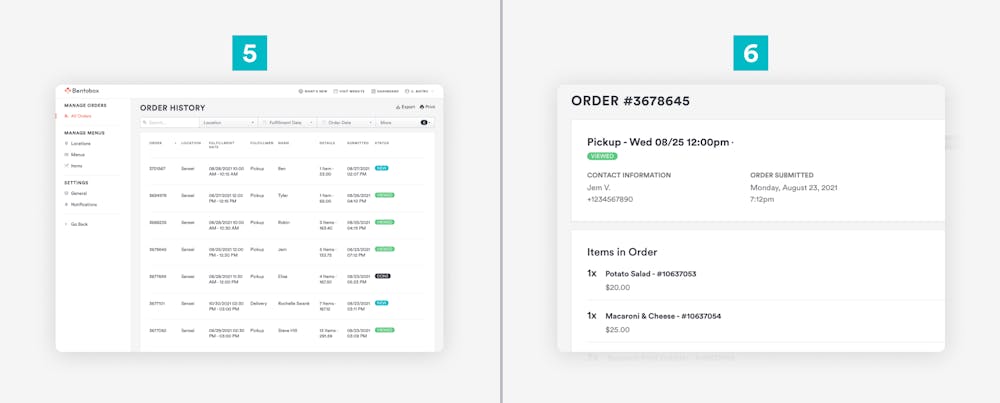 Pre-sell orders are logged in a live order history dashboard (Image 5), which includes key details such as fulfillment type, items ordered and price. The dashboard can be filtered by various conditions, including a custom date range, and is easily exported for sales reporting.
From the order history dashboard, you can click into any individual order to view a more detailed summary (Image 6). This includes more information than the dashboard does, along with the ability to mark orders as "Done" when they've been prepared or as "New" when you or a staff member need to come back to them (similar to marking an email as unread).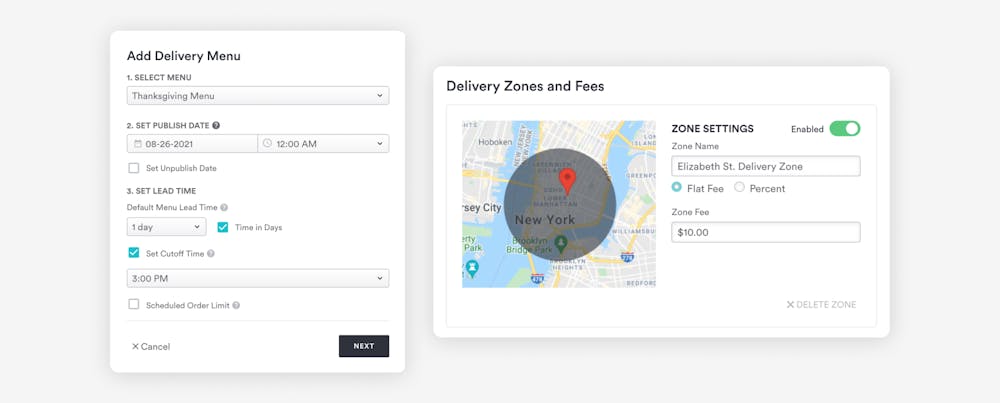 Using the "Manage Menus" section (above), you can easily customize menus by fulfillment date. For example, if you have a Thanksgiving pre-order menu, you can set it up months in advance but only have it appear when guests select the week of Thanksgiving as their pickup or delivery time.
Within each menu, you can also set controls such as daily order cutoff times and lead times. You can do this for the full menu or apply it to specific menu items. In the Thanksgiving example, this means you could require all orders to be placed 72 hours in advance — or you could set it at 24 hours unless they order a turkey, in which case it's 72 hours.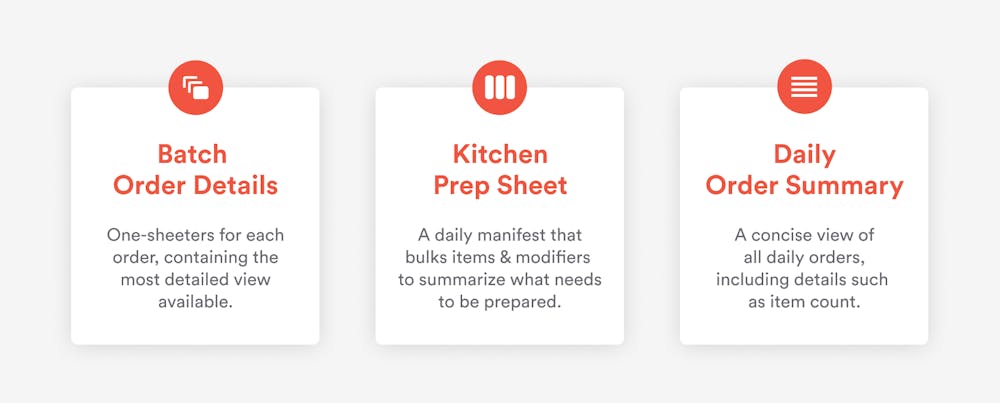 If you set a custom date range in the dashboard and click "Print," you can access three new documents designed to streamline kitchen operations: Batch Order Details, Kitchen Prep Sheet and Daily Order Summary.
Each document serves a different purpose and might prove more valuable to one restaurant than another, based on their existing operations. To illustrate how they can all be used together, see the suggested workflow example below:
Print out the Batch Order Details, providing a one-sheet of each order that you can attach to each order's packaging.

Refer to the Kitchen Prep Sheet and prepare all items across the board for the day (e.g., 10 taco trays, easily seeing variants for each tray).

Assemble the contents of each order by taking the items from Step 2 and referring to the one-sheets from Step 1.

Refer to the Daily Order Summary to ensure you have the total count of items for each order. You can also share this summary with your delivery staff, arming them with all delivery addresses in one concise view.
If you'd like more information about these documents, click here to schedule a demo and our team will follow up shortly.
What Customers Are Seeing and Saying
BentoBox Marketing & Commerce Platform
Deliver Smarter Hospitality
Want to stand out online, bring in more money, engage your diners, and streamline operations?
Recommended