Commerce
5 Benefits of QR Codes and How Restaurants Can Use Them
June 10, 2021
From optimizing on-premise dining to owning the guest relationships, QR codes are a powerful tool for growing diner loyalty and increasing sales.
It's a brave new world for restaurants, following a year of extreme change, adaptation, pivoting and creative maneuvering. With it, brought on a new set of challenges that restaurant owners had to face. And with those challenges, solutions. Near the top of that list is the QR code. 
The QR Code has come to be a widely adopted and incredibly useful tool. What are they and how can restaurants utilize them in the most efficient and effective way possible?
RESOURCE
Restaurant Menu Design & Copywriting
In this e-book, you'll find detailed tips for visual menu design, specific suggestions on menu copywriting and real menu examples from BentoBox customers.
The Brief History of the QR Code
Created in 1994, the QR Code (or Quick Response Code) was invented by a company named DENSO WAVE — which specialized in bar code readers — after the demand grew for a 2D code that held more detailed information for businesses. After seeing use in Japan's auto industry, it wasn't until 2002, with the marketing of QR code-reading mobile phones, that the technology was introduced to people around the world. Since then, QR codes have appeared in every industry from grocery stores to magazine advertisements and augmented reality media campaigns. But it wasn't until the emergence of the COVID-19 pandemic that brought QR codes into every facet of our daily lives.
QR Codes as a Contactless Solution
In the days and weeks after government-mandated shutdowns and social distancing measures enacted, restaurant operators looked for ways to pivot and adapt to keep their businesses alive. Online ordering exploded overnight. Sales for the U.S. food-delivery business grew from roughly $28 billion in 2019 to $51 billion in the midst of the pandemic. Restaurants that weren't already running takeout operations adopted online ordering technologies for pickup and delivery. Over time, QR codes helped facilitate and streamline the process.
The Benefits of QR Codes for Restaurants
By this point, most diners have interacted with QR codes while dining — whether it's dining on-premise, scanning a direct mail ad to start an online order or paying at our local coffee shop. Because of the pandemic, and the adoption of al fresco dining and distanced indoor dining, restaurants reverted to placing branded tabletop signs at each table featuring a QR code. 
This contactless solution allows diners to view menus, safely place their orders and pay without having to interact with staff. For restaurants, this kept their staff safe as dining resumed. How else can they benefit restaurants? Let's look at the many ways QR codes can help restaurants turn more tables, increase profits, build customer loyalty and optimize the on-premise dining experience. 
1. Keep menus up-to-date in real-time without any printing
QR codes are an easy, sustainable entrance to a restaurant's menu. Guests simply scan the code to view a menu. For restaurants, this puts the focus on the digital or online menu. With platforms like BentoBox, restaurants can simply update their online menus through the backend — whether guests are sent to the website or directly to the Dine-in platform, as the example below shows. It's an all-in-one solution that saves restaurants time and reduces the amount of printed waste.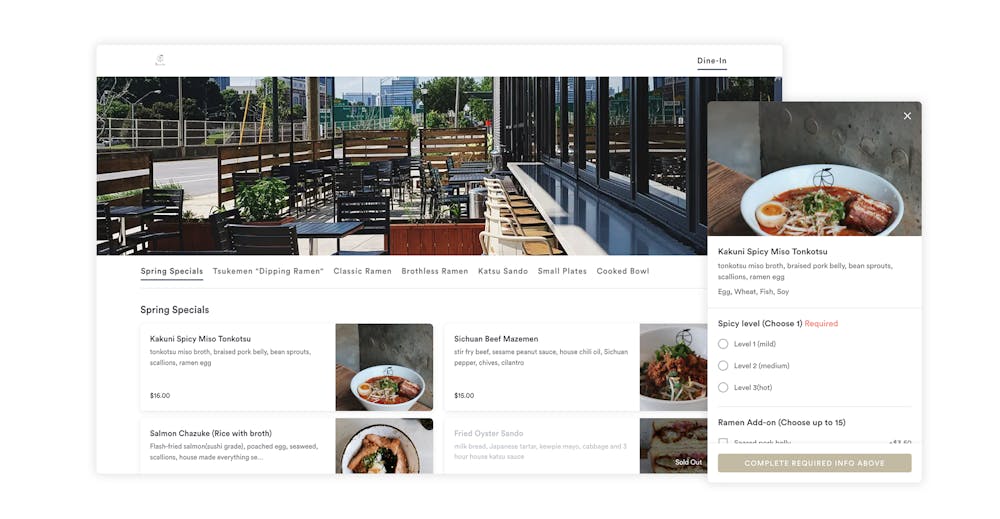 An example of a digital ordering menu for Momonoki
2. Guests can start orders and pay on their own time
Whether diners are staying for a while or are in a rush, QR codes help facilitate an optimized process. Digital ordering and payments through QR codes remove the wait for restaurant staff to take orders, check-in and drop checks to guests. With staffing issues abundant across the industry, these technologies can help a small staff continue to operate at a high volume and retain profits. 
As an example, if it takes 10 minutes on average for a guest to sit down and place an order and 10 minutes on average to settle the bill, each table — as well as staff — saves 20 minutes of their time. For restaurant staff, this time saved can result in more tables managed and turned each hour, culminating in increased daily sales for the restaurant.
3. Captures email addresses to enroll in email automation programs
Until now, finding a way to capture on-premise diner contacts was largely non-existent, especially for restaurants that don't take reservations. Now, with QR codes bringing on-premise diners into the ordering and payment process, diner contact information is collected by the restaurant. Restaurants can now grow their marketing contact list from on-premise diners and from direct online orders. This gives the power back to restaurants to own their guest relationships and rely less on third-party platforms that retain guest information to benefit their business only. 
Once a guest dines with the restaurant, a dedicated thank you email is sent, with a personal greeting from the chef or owner. This greeting can be personalized and edited to reflect the brand and tone of voice of the restaurant. It's a gentle way to establish trust with diners and connect with them to drive loyalty and future repeat business. 
With the power of owning guest contacts, restaurants are now able to incentivize guests to become repeat diners through a series of automated emails. With BentoBox's Dine-in Order & Pay, guests receive "It's Been a While" emails that re-engage diners to revisit the restaurant or order takeout. 
4. Enrolls on-premise guests into a restaurant's loyalty program
Restaurant loyalty programs are great ways for restaurants to engage with diners and increase brand loyalty. While there are many loyalty programs out there, specifically for restaurants, enrolling diners into them is half the battle. Repeat Rewards from BentoBox, is a free loyalty program for restaurants. Diners who have previously visited a restaurant can receive promos and rewards for ordering delivery online — another way to increase brand affinity and increase sales.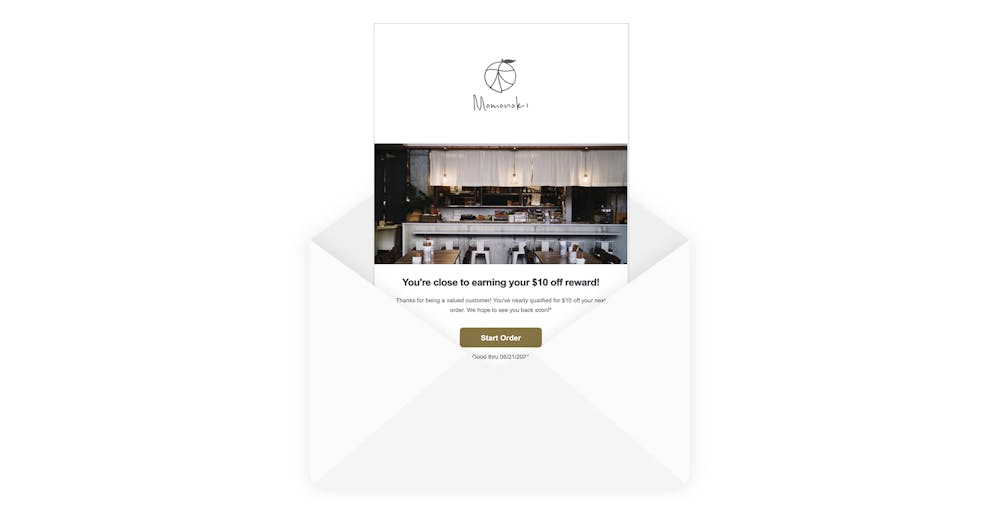 An example of a Repeat Rewards email from Momonoki
5. Enables takeout guests to redeem promos while dining on-premise
Diners can receive promo codes from a restaurant via the website, social media or a marketing email. By using QR codes to digitally order and pay, restaurants can elevate the guest experience and come full-circle by allowing a takeout customer who received a promo code through any of these channels, to apply them while dining on-premise. Diners sit, scan the QR code, view menus, order and when fulfilling payment, apply the code directly to redeem.
Whether used for on-premise or for takeout, these are just a few of the ways that restaurants can benefit from using QR codes. They're a simple, fast and powerful tool to help optimize the dining experience with limited staff, foster guest relationships and further brand loyalty. To learn more about how your restaurant can benefit from QR codes, Dine-in Order & Pay and direct online ordering, reach out to your Customer Success Manager or sign up for a free online demo today.
Demo Request
14,000+ restaurants trust BentoBox
Increase your profits and elevate your guest experience with a digital storefront that keeps diners coming back.
Recommended