Commerce
5 Restaurant Problems an Online Catering Store Solves
We built our latest product, Pre-Order & Catering, to address specific problems we heard from restaurant professionals. Do any of these issues apply to your restaurant?
For years, diners have been growing more comfortable with online restaurant ordering. The pandemic accelerated the trend — but more than that, it helped the trend evolve. 
For example, many diners have made the shift from third-party delivery apps to direct online ordering, as a way to both save money and support local restaurants. At the same time, their increased comfort with online ordering has led them to trust it with bigger requests like catering, rather than just for standard takeout and delivery.
Unfortunately, many restaurants lack the time, staff and budget to put an effective online catering system in place. Instead, they rely on error-prone processes such as phone calls, tedious online inquiry forms and high-commission marketplaces that cut into their profits. Some do away with advance orders altogether, wanting to avoid the headache.
We heard about these issues directly from restaurant operators, and we built our latest product, Pre-Order & Catering, to address them. Here are five issues in particular that Pre-Order & Catering solves.
1. Restaurants Paying High Commission Fees to Catering Marketplaces
Problem: Many restaurants lack the ability to market and capture catering orders through their website — and those that can often struggle to do it well. Instead, they rely on third-party marketplaces to accomplish those things, but marketplaces charge a steep commission that cuts into the restaurant's revenue.
Solution: With built-in tools for SEO, email and loyalty, Pre-Order & Catering helps restaurants drive traffic to their own online catering stores, where margins are substantially higher. When diners land on the website, they are guided through a user-friendly interface that allows them customize orders, view photos and complete one-click payments. These features help restaurants drive more revenue per site visitor, as demonstrated by the 98% checkout rate on cart additions for online orders.
2. Diners Not Placing Orders Because They're Confused or Frustrated
Problem: Before they place an order or call a restaurant, catering customers begin by conducting online research, which typically leads to a restaurant's website. However, they often struggle to understand what they can order or customize, especially if menus and items change seasonally. As they become confused and frustrated, they bounce from the website and continue researching options.
Solution: With Pre-Order & Catering, restaurants can customize catering menus based on fulfillment date, set order cutoff times and add custom lead times for menus and items. When customers add the details of their order to the website, the website updates to reflect — and clearly communicate — accurate information. This gives them the clarity, confidence and peace-of-mind needed to stop researching and place an order.
3. Front-of-House Staff Wasting Time on Inefficient Work
Problem: If a restaurant website doesn't accept online catering orders — or it does but the guest is confused — their next step is to call the restaurant. Front-of-house staff need to spend time reading menu options, answering follow-up questions, keying in orders, processing payments, recording customer details and communicating information to the kitchen. This work can be tedious and frustrating, and it results in further frustration because it forces staff to fall behind on other responsibilities. 
Solution: As mentioned above, Pre-Order & Catering is designed to improve guest experience and reduce guest confusion. Between that and its ability to capture online orders, it reduces the need for guests to call and allows front-of-house staff to focus on...everything else in the dining room. Especially in the midst of a labor shortage that will force restaurants to change their workplace culture, automating tedious tasks goes a long way for talent retention.
4. Kitchen Staff Struggling to Prepare Orders Quickly
Problem: With existing catering solutions, kitchen staff struggle to know what to prepare and by when — especially in bulk. Orders are recorded and communicated separately, making it difficult to see the bigger picture. For example, rather than seeing that they need to prepare 10 taco trays (and all of the variants across the trays), staff might see five orders containing two taco trays apiece, and then prepare all five orders individually.
Solution: Pre-Order & Catering automatically prepares three documents to streamline kitchen operations: Batch Order Details, Kitchen Prep Sheet and Daily Order Summary.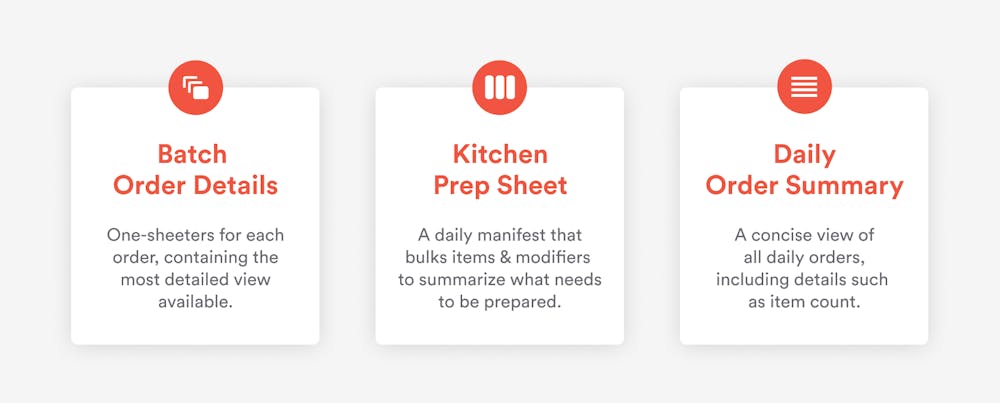 Each document serves a different purpose and might prove more valuable to one restaurant than another, based on their existing operations. To illustrate how they can all be used together, see the suggested workflow example below:
Print out the Batch Order Details, providing a one-sheet of each order that you can attach to each order's packaging.

Refer to the Kitchen Prep Sheet and prepare all items across the board for the day (e.g., 10 taco trays, easily seeing variants for each tray).

Assemble the contents of each order by taking the items from Step 2 and referring to the one-sheets from Step 1.

Refer to the Daily Order Summary to ensure you have the total count of items for each order. You can also share this summary with your delivery staff, arming them with all delivery addresses in one concise view.
If you'd like more information about these documents, click here to schedule a demo and our team will follow up shortly.
5. Restaurants Failing to Re-Engage Catering Customers
Problem: Compared to other customers, catering customers are more likely to be repeat guests who think highly of a restaurant; after all, it requires a certain degree of trust to use a restaurant for a special occasion. This makes the fact that a customer has ordered catering a valuable data point, which restaurants can (and should) use to tailor marketing outreach and maximize lifetime value. However, existing solutions aren't optimized for restaurants to do this.
Solution: Rather than using fragmented tools for different ares of their business, Pre-Order & Catering allows restaurants to create a unified experience. When customers place a catering order, restaurants can capture their information and prompt them to enroll in a digital loyalty program. They can then use pre-built marketing tools to easily and strategically reach those customers with future promotions, campaigns and incentives.
BentoBox Marketing & Commerce Platform
Deliver Smarter Hospitality
Want to stand out online, bring in more money, engage your diners, and streamline operations?
Recommended