Marketing
10 Ways to Optimize Your Google My Business Listing
October 2, 2019
Easy ways to increase guest traffic and engagement
Google is an important part of a guest's lifecycle. More than ever, customers are searching online for options of where to dine. It's important to seize that opportunity. Here are 10 ways to optimize your Google My Business listing to increase guest traffic and engagement.
Get Online Ordering
Set up pick up and delivery with our zero-commission service.
1. Verify Your Listing If You Haven't Yet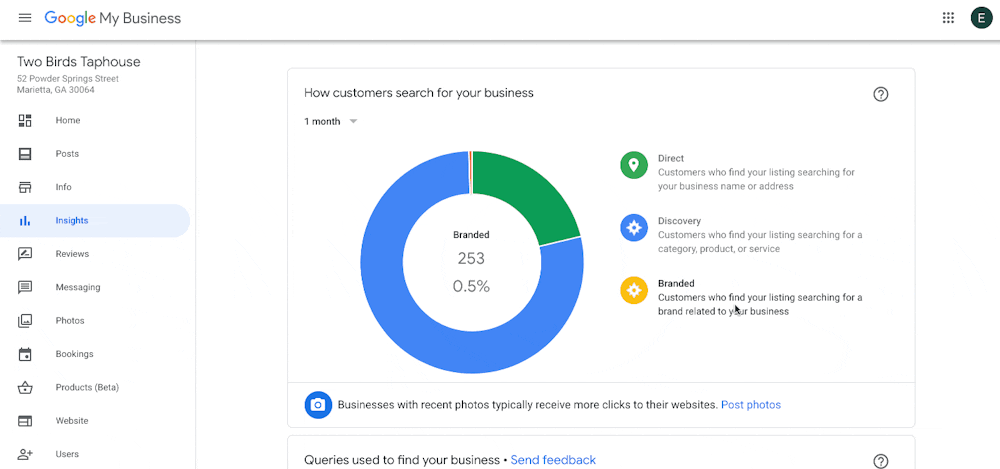 If your restaurant already has a listing that you want to claim, go to Google Maps and search for your business. Click "Claim This Business" and select a verification option. If a listing does not yet exist for your business, go to www.google.com/business and sign in to your Google Account or create a new one. Follow the directions that you see to add your information. One huge benefit of claiming your listing is that Google gives you access to insights about customers searching for you.
2. Make Sure Your Name, Address, Phone Number and Hours Are Correct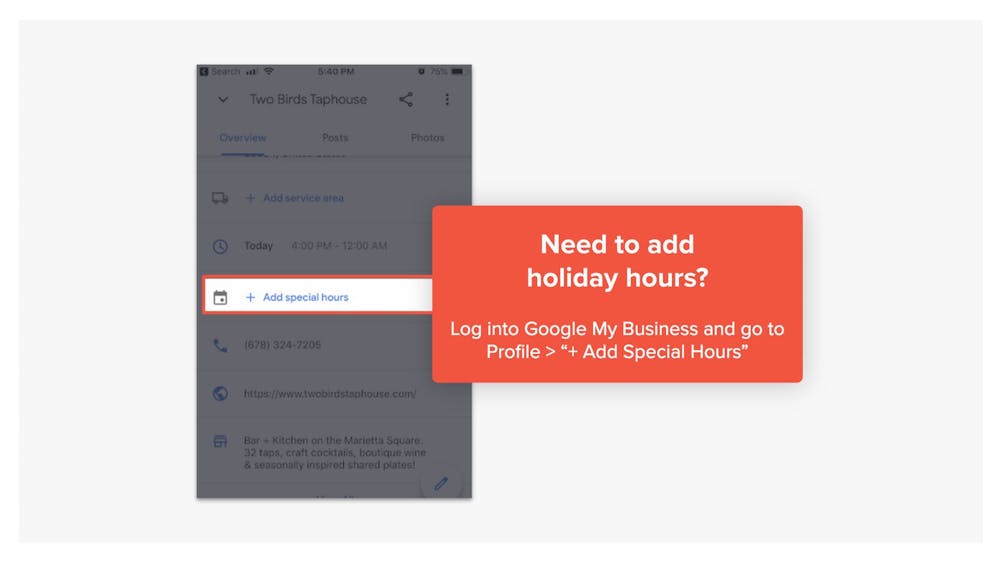 This helps your guests to see exactly where you're located and when you're open or closed. It's important to list your hours correctly to prevent a situation where guests show up too early or too late to dine.
As a busy restaurant operator, you don't have the time in the day to make sure that your listing is accurate. Luckily, you don't have to. You can keep them up-to-date automatically and make sure you're in control of the information your guests are seeing. LocalSync is a tool that BentoBox customers use to send accurate, up-to-date information every day to Google Maps, Google Search, Facebook, and more.
3. Include Your Menu Links and Keep Your Items Up-To-Date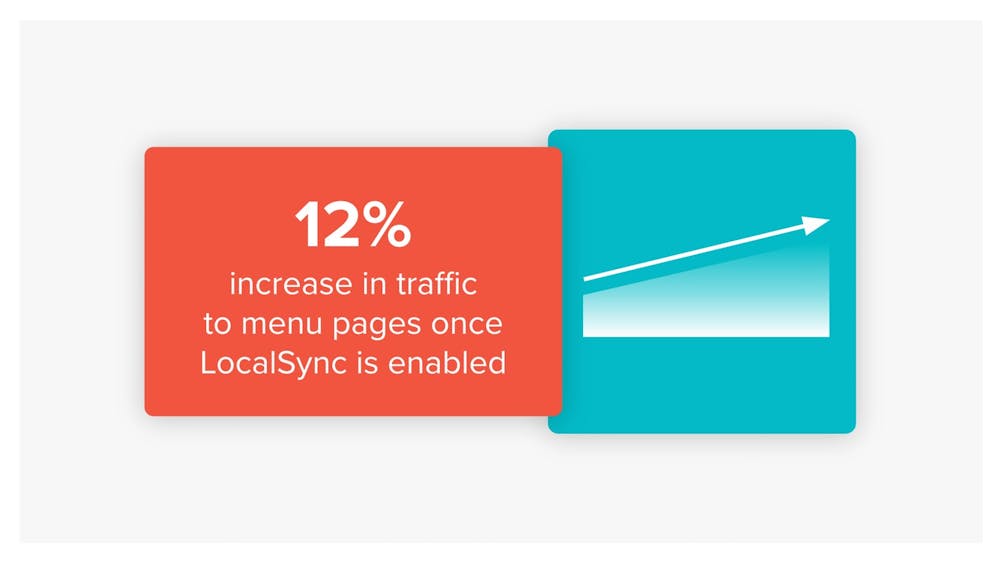 Don't forget to add your menu URL in the "Info" tab. If your Google My Business restaurant menu items show up on the mobile version of your listing, you also need to make sure to keep those item names and prices up-to-date. Again, if you use LocalSync, you don't have to worry about this. Those changes get sent automatically. BentoBox customers that use LocalSync see a 12% increase in organic traffic to their "Menus" page after they start syncing their menu.
4. Include Links for Actions You Want Your Guest to Take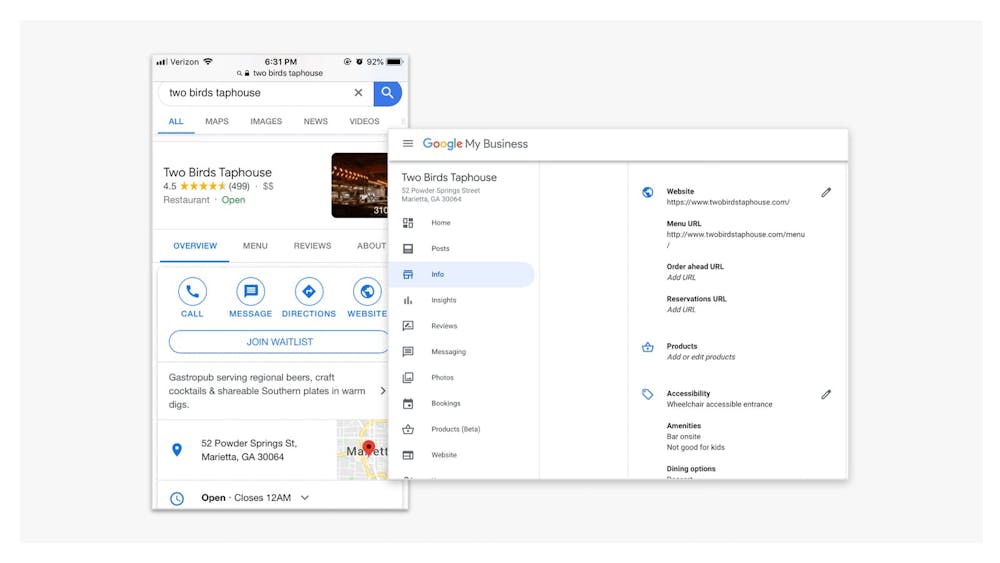 Include links that drive action from your guests. Your Google My Business listing is a great way to drive revenue for your restaurant. Whether it's ordering online or driving reservations, you can set up links from the backend of Google My Business.
5. Update Your Photos, Often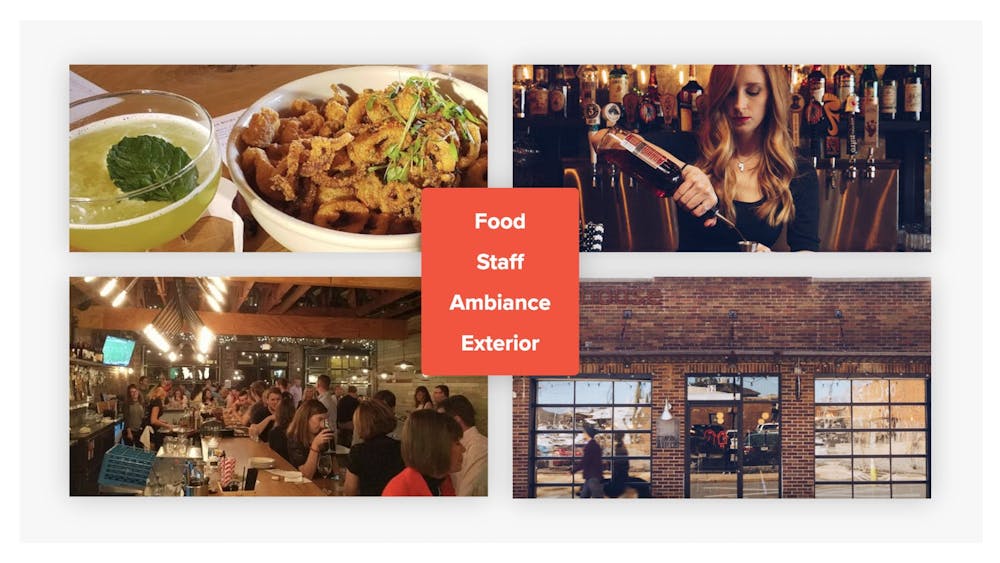 Whenever a Google user gives you a review that includes a photo, that photo gets added to your Google My Business listing. That's why it's important for you to routinely add your own photos to your listing. We recommend you add a minimum of 3 new photos per week. Google actually favors businesses that routinely add photos.
When you're thinking about what types of pictures to include, make sure that you are showing guests your food, staff, exterior and interior ambiance. When it comes to interior photos, it's best practice to have seats filled with guests. You want to build social proof and show guests that your restaurant is a popular place to dine at.
6. Try Out Google My Business: Products
Another way to generate revenue is to try a recent feature addition to Google My Business: Products. This newer feature is a great way to capture both interest and attention from repeat customers who are looking for you online. They have a high intent to interact; take advantage of it.
You can use Products to sell gift cards, t-shirts, cookbooks — you name it. All you need is a name, a price or description and a link with some form of payment processing (if it involves purchasing). Don't forget to add a button to your website for your guests to be able to order your product directly. If you're a BentoBox customer using eCommerce, you can link right to your merchandise store or gift card page, which already has Square or Stripe set up to collect payment.
7. Download the Google My Business App for Your Phone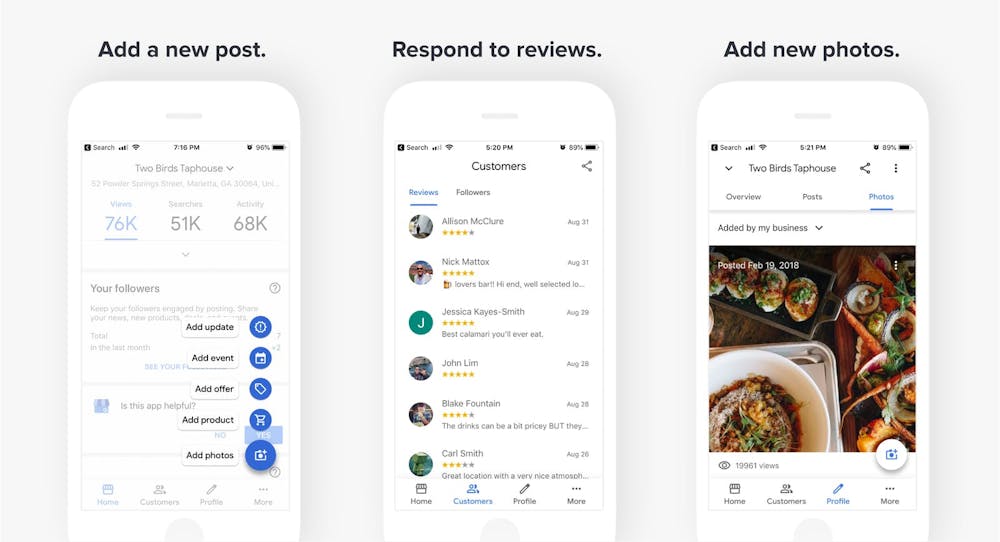 If you have an iOS or Android device, we highly recommend you download the Google My Business app for your phone. This makes it much easier for you to post new photos, add products, offers, events and updates. You can also easily respond to reviews.
The home dashboard of the app also gives you really helpful insights right at your fingertips, such as views of your listing from "Maps" and "Search" in the last 28 days, clicks on your website, requests for directions and clicks to call you.
8. Turn on Messaging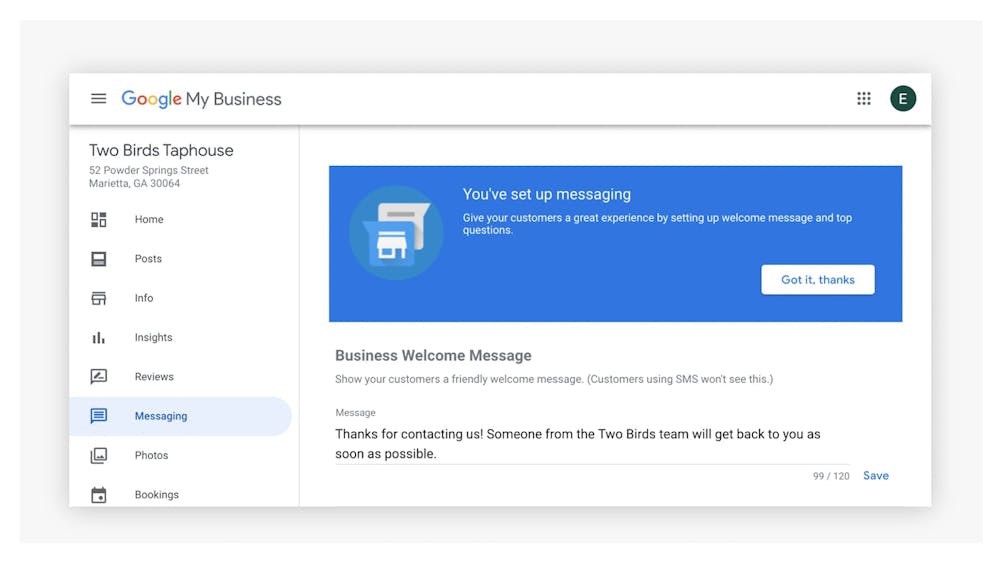 For Google My Business, turn on the "Messaging" feature so guests on mobile can easily contact you.
To do this, log into your listing from a computer and go to the "Messaging" tab. The messaging tool makes it easy for guests to text you instead of having to call to get a quick answer to a question they might have. Google lets you set up an automated welcome message. You can add something like "Hi, great to hear from you! We'll get back to you shortly. In the meantime — check out our menu: [and then include your menu link here]."
We recommend that you set up both this automated message as well as a notification to a phone number for someone on your team so they can quickly reply whenever a message comes in. A best practice here is to respond to messages within 10 minutes.
9. Respond to Negative Reviews in Less Than 24 Hours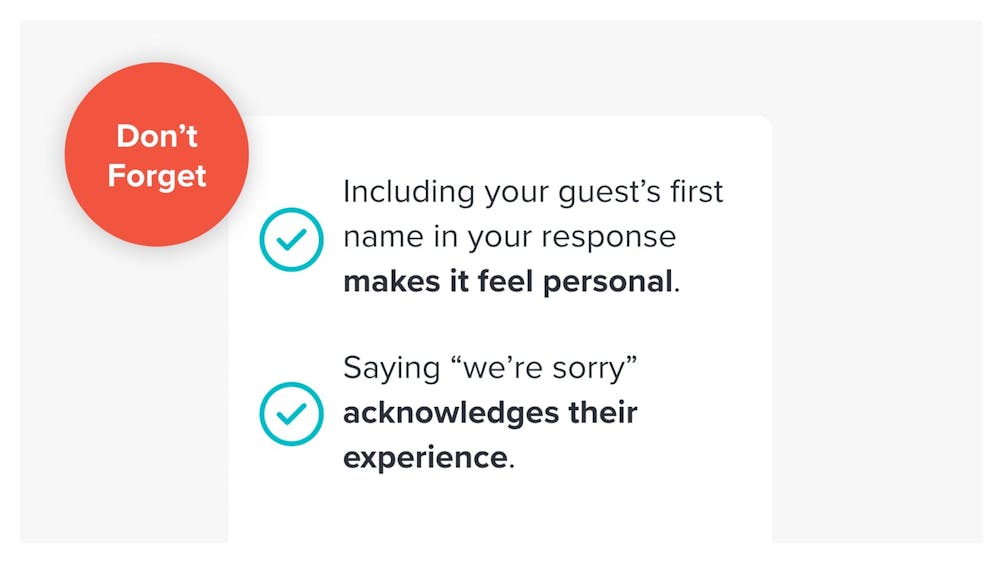 Studies show that you can transform 30% of your negative reviewers into proponents of your brand. When you actively respond to reviews, you're also more likely to achieve something called "Local Pack" status with Google. Local Pack is a set of three listings that show up when you search for a distance-related phrase, like "restaurants near me" or "best places to eat in [neighborhood name]." So as you can imagine, if you get Local Pack status, you get much more traffic from people clicking into your listing.
10. Ask Promoters to Give You Positive Reviews on Google
Google pays attention to your ratings and helps guests easily filter star-ratings for restaurants. So, it's important to push for positive reviews from your best customers. There are a few ways that you can do this.
If you don't have a feedback loop for guests who visit you in-store, you should. You can print out comment cards and drop them with the check. If you do this, make sure you include an email address as a field on the form for a follow-up.
For customers who write down positive feedback on their form, you can email them after, asking for a review on Google. You can even offer swag as a thank you if they send you their address information with a screenshot of their review once it is published. At BentoBox, we're all about making your life easier. Below is an email template you can use to send to your guests. If you use Google, you can even download a free plug-in like Google Email Templates to save this or another template and insert it into emails once you click "Compose" to start a new one.
Email Your Happy Customers For This Favor:
It looks like you had a good experience at [Your Restaurant] recently. We loved having you in, and we hope you'll join us again soon.
Exceptional hospitality and experiences with guests like you are the reason we exist - and we're happy we got to show you what we're all about.
Would you be willing to share your experience on Google? We want other people in [city] to see your feedback.  It's a real-life example of why we're in this business.
Thanks again for the kind words!
[Owner or GM name]
That's all for now! You can email Google My Business and any LocalSync questions to LocalSync@getbento.com or get a demo of the BentoBox platform here.
Recommended