Holidays
12 Ideas for Restaurant Holiday Promotions & Events
October 5, 2021
Check out these examples of restaurant events, and see if they make sense for your upcoming holiday plan.
For restaurant operators, the holidays are not just a time to eat, drink and be merry; they're a time to maximize revenue before traffic and sales slow in January.
Restaurant holiday promotions are an important part of this strategy, but with every restaurant in town competing for the same share of wallet, it's risky to roll out the "same old" ideas people have seen before. Operators need unique restaurant promotion ideas that cut through the clutter while tapping into the seasonal customer mindset. 
Doing this in 2020 was more difficult than ever, given the indoor and capacity restrictions most states had in effect. However, that difficulty inspired restaurants to pivot and get creative, leading to a host of new ideas and best practices. We've curated some of our favorite examples below — along with some helpful examples from 2019 — to help operators plan this year's festivities.
RESOURCE
29 Holiday Decoration Ideas for Restaurants
Find visual examples of real holiday decor for Halloween, Thanksgiving, Christmas and New Year's Eve from successful concepts.

Restaurant Holiday Promotion Ideas
Social Media Gift Giveaways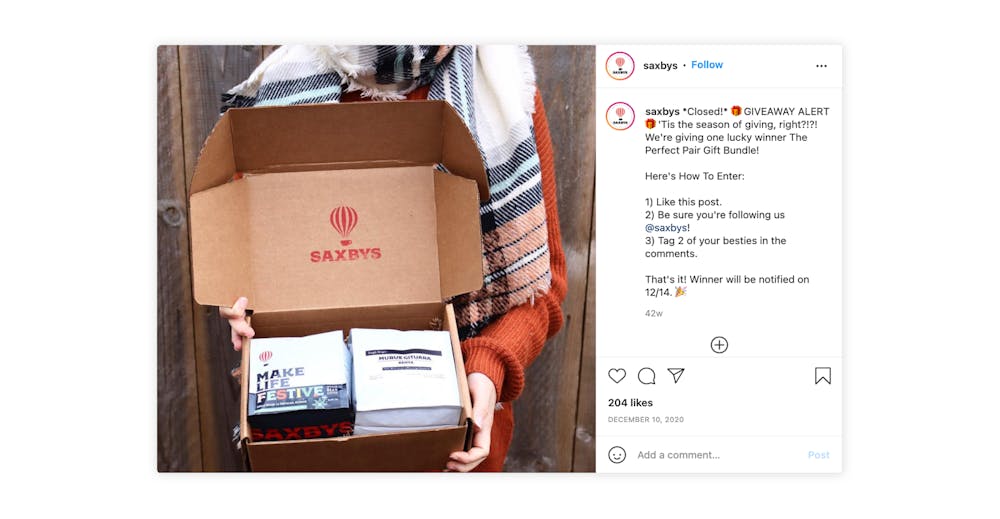 Social media giveaways are a smart marketing tactic any time of year, but they're especially relevant — and likely to be successful — during holiday season, when people are looking for gift ideas for friends and family. Promoting a gift box and asking people to tag their friends in the comments, as Saxby's did on Instagram last holiday season, works well because it's an easy prompt that users can complete quickly. It also encourages viral sharing that drives more people to your account.
Gourmet Gift Boxes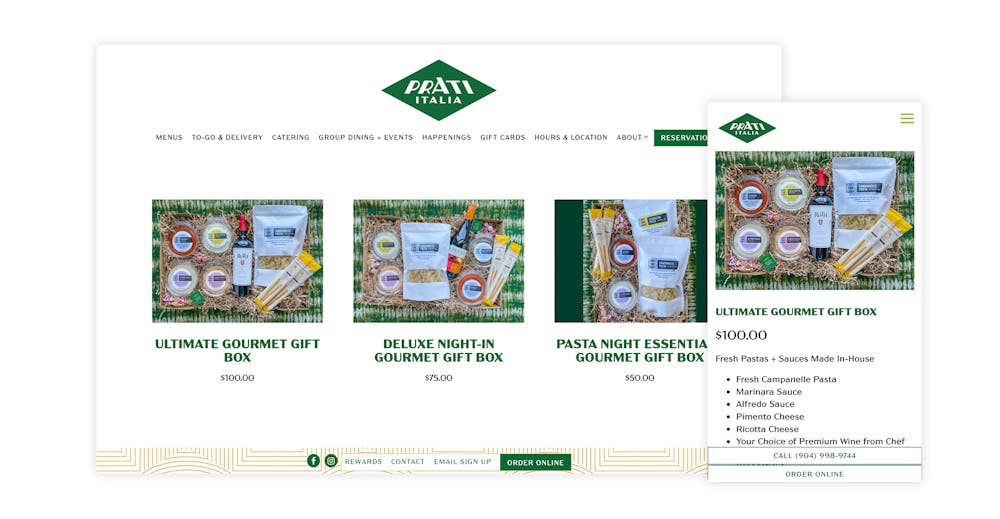 Whether or not you promote them with a social media giveaway, gift boxes are a popular holiday promotion. Since it's the holidays, upscale and gourmet gift boxes have an extra special appeal. Prati Italia, a contemporary Italian restaurant in Jacksonville, Florida, sells gift boxes with homemade pasta, wine and fresh sauces that people can gift to the pasta lovers in their lives. Other restaurants should apply the same thought process to their gift boxes, positioning them as perfect gifts for certain "types" of people: pasta lovers, wine experts, pastry chefs and so on.
Holiday Beer Packs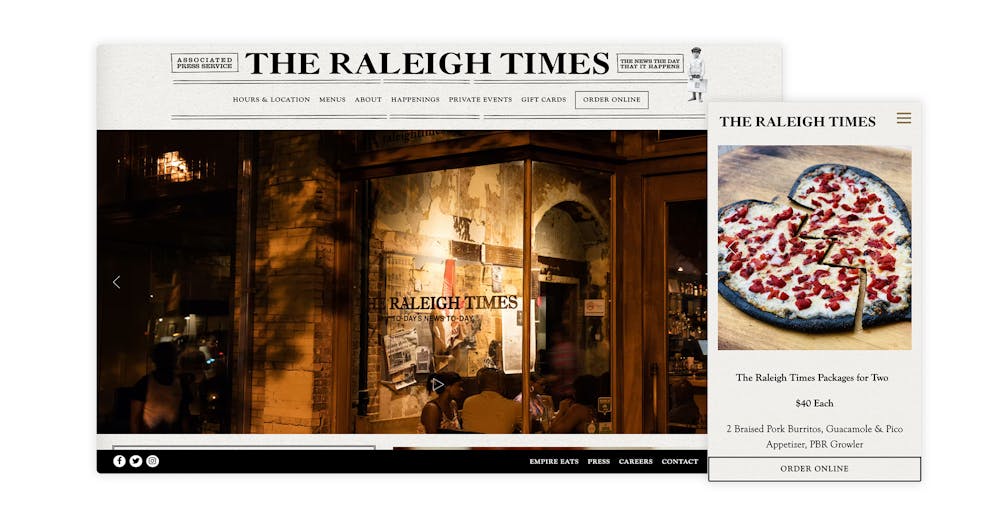 Just as Prati Italia's gift boxes are perfect for the pasta lover in your life, beer packs are the perfect gift for beer lovers. Many establishments can offer a promotion like this, but it's especially powerful if your bar has a renowned beer list. The Raleigh Times is known as the beer mecca of Central North Carolina, and it taps into that audience by selling vintage beer packs — many of which are no longer brewed. It promotes them by stating that the packs are perfect for "the beer enthusiast," which triggers people to think about gifting.
Holiday Gift Cards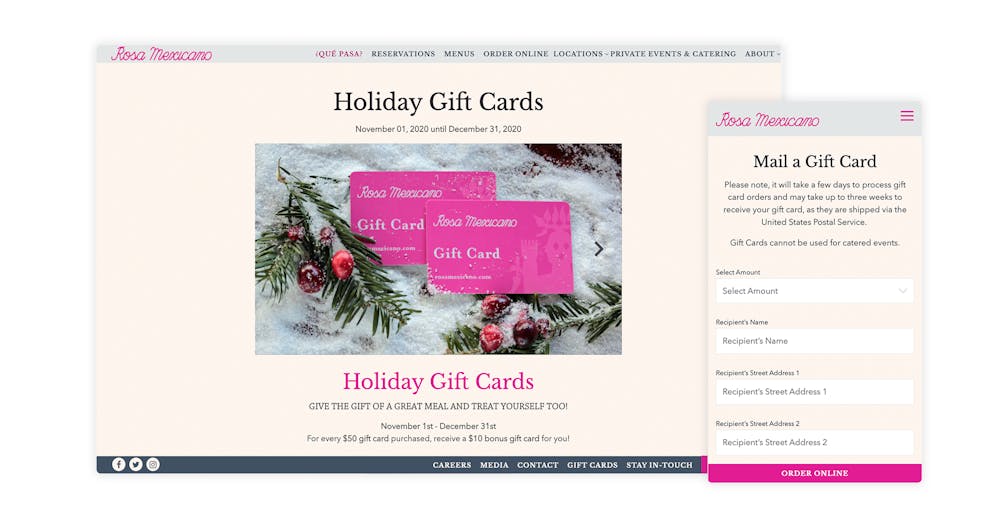 If you don't have a holiday gift box package, you can still turn holiday gifting into a revenue driver. Gift cards make for terrific last-minute gifts, and technology has made it easier than ever to buy and redeem them. Rosa Mexicano, a restaurant brand with locations across the Mid-Atlantic, demonstrated this by selling holiday gift cards through its website from November 1st to December 31st last year. Although it sold digital gift cards, it marketed the promotion with a seasonal photoshoot of physical gift cards that made things extra enticing.
Hybrid Holiday Offerings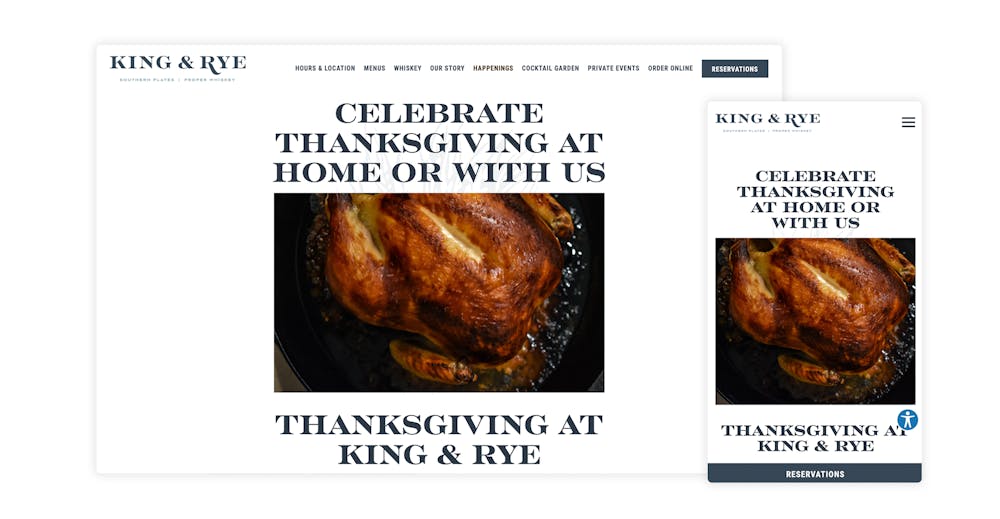 In 2020, most or all holiday promotions had to occur off-premises, which pushed many restaurants to improve their online ordering and online catering capabilities. In 2021, on-premises holiday promotions will return, but there will still be more demand for off-premises holiday promotions than there was before the pandemic. To appeal to every type of customer, restaurants can explicitly promote their hybrid capabilities, as King & Rye does by framing its Thanksgiving promotions as, "Celebrate Thanksgiving at Home or With Us."
PRODUCT
Restaurant Merchandise
Sell restaurant merchandise like cookbooks, apparel and packaged foods without a third party and drive more revenue directly on your website.
Restaurant Holiday Event Ideas
Virtual Cooking Classes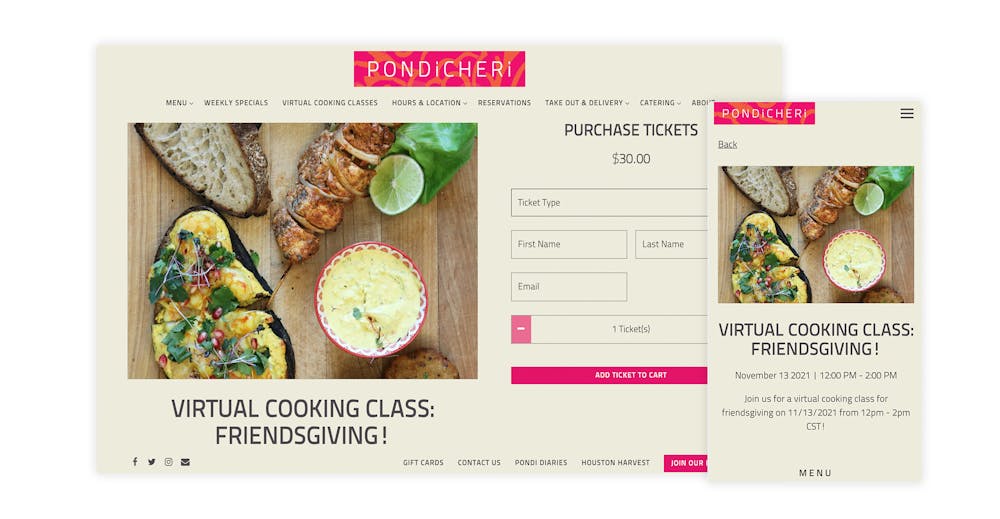 Every holiday host — and many holiday guests — wants to steal the show by bringing restaurant-quality homemade food. For years, restaurants have tapped into this by offering holiday cooking classes. Pondicheri, a kaleidoscopic Indian restaurant in Houston, Texas, has done a remarkable job adapting these classes to offer them virtually. Using BentoBox, they sell online event tickets for a mix of seasonal classes and holiday classes, even including Friendsgiving.
Tree Lighting Ceremonies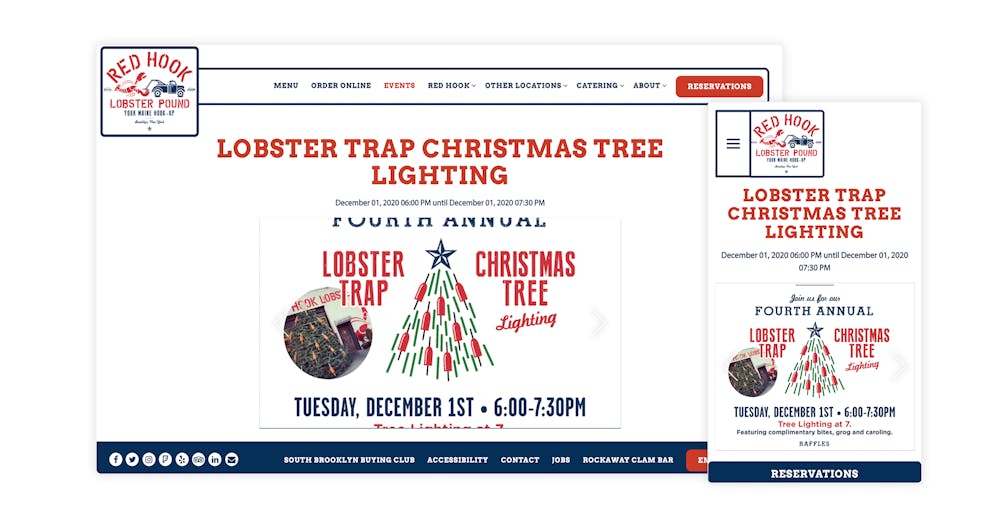 This year in particular is a great time to tap into festive traditions. After last holiday season, when many consumers avoided large gatherings (even outdoors), there will be pent-up demand for events that bring people together and feel "normal." Red Hook Lobster Pound has set a great blueprint for this with its annual outdoor tree lighting ceremony. Their tree is adorned with lobster traps rather than ornaments, a perfect example of demonstrating brand personality through a restaurant event.
Holiday Dinner & Movie Nights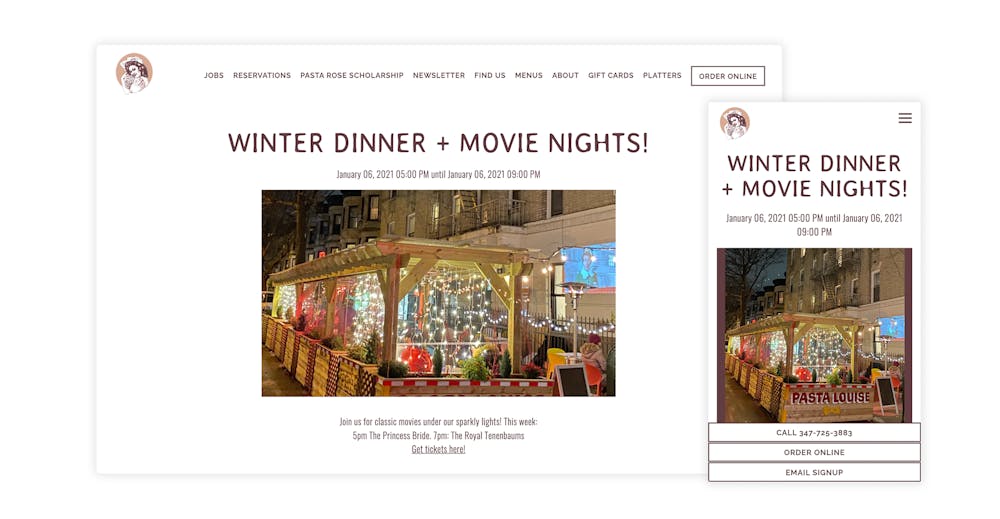 Few things tap into the holiday spirit better than holiday movies. Many of the classics have withstood the test of time, allowing parents to share traditions from their childhood with their kids. Combine that with hearty winter comfort food, as Pasta Louise did with last year's outdoor showing of the Home Alone movies, and you have an event that's sure to attract interest. Just to be safe, Pasta Louise also marketed the event on social media, directing followers to their website to buy event tickets.
Holiday-Themed Trivia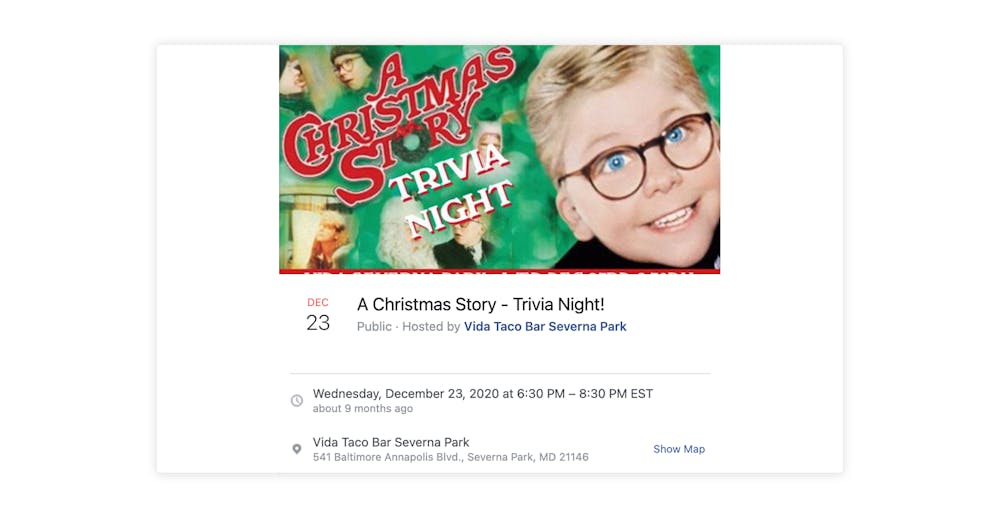 If you don't have a place to screen holiday movies, that doesn't mean you can't tap into the passion surrounding them. Vida Taco Bar in Severna, Maryland, hosts weekly trivia nights all year, but during holiday season it themed one week's trivia night to be about the movie A Christmas Story. It's a subtle, but still festive, way to make your events more seasonal.
Holiday Cocktail Workshops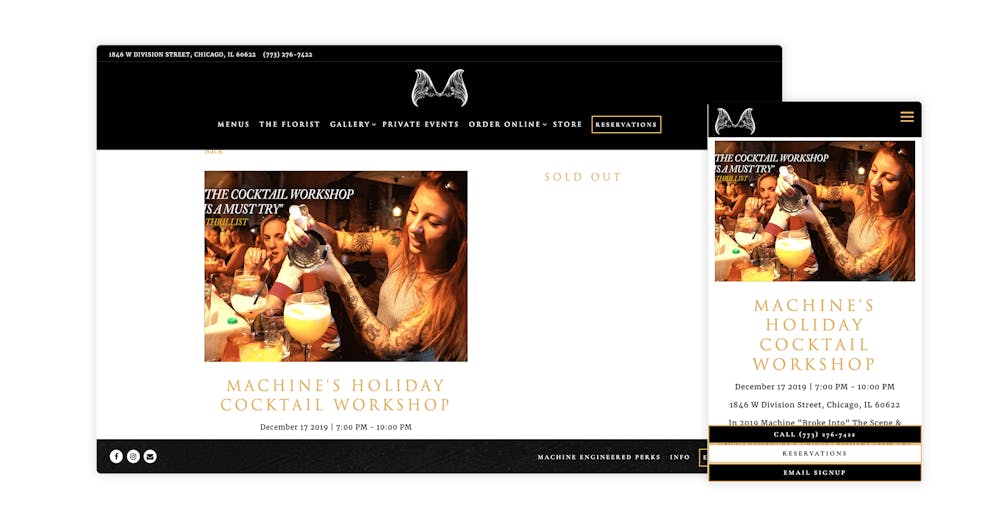 Whether they're hosting an event, attending one or enjoying a quiet night in, the holidays are time for people to treat themselves to nicer drinks than usual. Holiday cocktail workshops teach diners how to make restaurant-style drinks for all of those occasions. Tickets to expert events like this also make for great gifts from friends and significant others, who are looking for inspiration throughout the season. Acclaimed Chicago cocktail destination Machine made its 2019 workshop especially tempting by teaching guests unreleased holiday recipes.
Holiday Entertaining Classes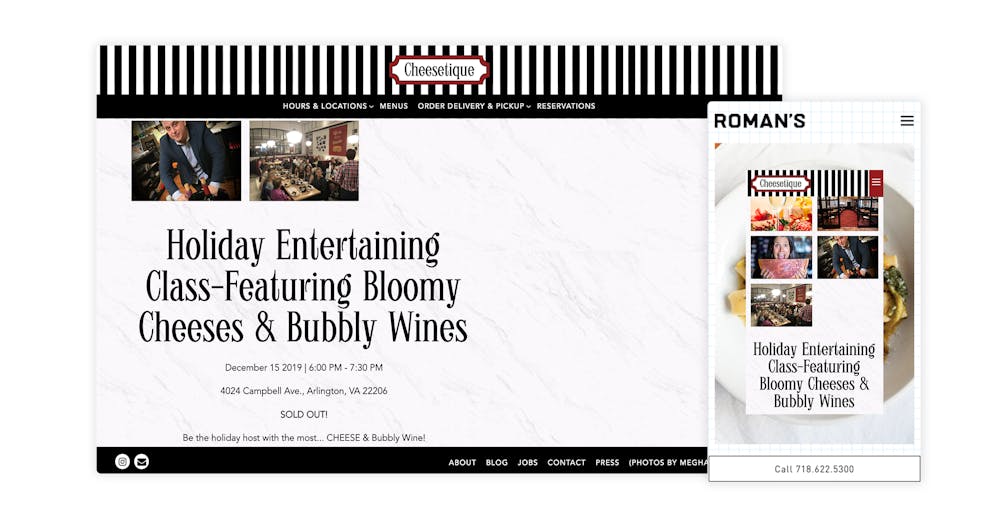 When it comes to hosting a holiday party, cooking and mixology aren't the only things customers can learn from restaurants. They can also learn the finer points of hospitality. After all, many restaurants serve guests 365 days a year, whereas holiday hosts serve them once or twice. Cheesetique, a cheese shop in Alexandria, Virginia, centered its holiday entertaining class around how to prepare a world-class wine and cheese spread — a great example of how to tailor a broad event idea to a specific concept.
Ugly Sweater Events
Ugly sweaters have become an ironic holiday tradition for many partygoers. Restaurants can tap into this by hosting events that require (or strongly encourage) guests to wear ugly sweaters, giving people who love the tradition a reason to fish their favorite sweater out from the closet and hit the town. Especially after indoor venue shutdowns in 2020, guests should be eager to bring ugly sweater parties back in 2021.
DEMO REQUEST
Want to stand out online? Let's chat.
Drive revenue directly through your website.
Recommended