Holidays
Checklist to Prepare for New Year's Eve Restaurant Events
December 16, 2021
New Year's Eve events are the pinnacle of restaurant holiday season. Use this checklist to plan, prepare and promote a successful NYE bash.
Every December 31st, at the stroke of midnight, people come together to ring in the new year. It's an age-old tradition that marks the passing of one year and the beginning of another. 
Restaurants and bars have long been a destination for revelers on New Year's Eve, but last year the COVID-19 pandemic forced nearly all large gatherings to be canceled. This year, however, more than 60% of the nation is vaccinated, the ball drop party is returning to Times Square and restaurants will safely resume their important role in the evening's festivities.
New Year's Eve also caps the end of a busy holiday season for restaurants, providing one more chance to drive a surge in end-of-year revenue. However, preparing for restaurant holiday events can be daunting. There is a mountain of tasks to address before the big day, and failing to address any one of them could lead to major issues. 
To ensure nothing slips through the cracks, we've created a guide that outlines every step of the New Year's Eve event planning process. Read while planning your party, and you'll be one step closer to ringing in the new year with your guests.
PRODUCT
Restaurant Events Management Software
Streamline private event bookings for you and your guests.
Types of New Year's Eve Restaurant Events
When planning their New Year's Eve events, restaurants can choose from several event types — each of which comes with advantages and disadvantages. Here are a few options restaurants can consider. 
1. Full Buyout
Overview: Full buyouts are when a guest or business rents out the entire restaurant space for a private event. Many restaurants offer tiered packages that include limitations on food, beer, wine and alcohol offerings. For example, if a group of friends rented out the restaurant for a New Year's Eve party, it might cater the event with small bites and hors d'oeuvres for up to 25 people, plus a select list of beer, wine and house cocktails on the open bar. 
Benefits: Restaurants can charge high prices for closing their space to the public, guaranteeing large upfront revenue. Beyond the obvious benefit of guaranteed money, this helps with operations because restaurants can plan far in advance for the event and accurately forecast end-of-year revenue.
Drawbacks: While full buyouts often come with high price tags, they don't always outpace the revenue from high-volume nights. For example, weekends generate huge sales numbers for restaurants. If New Year's Eve falls on a Friday or Saturday night, a full-buyout might fall short of the average weekend sales numbers, impacting the restaurant's bottom line. 
2. Partial Buyout
Overview: Partial buyouts are similar to full buyouts, but the party only covers a designated section of the restaurant, rather than the full space. This means regular diners can still enjoy the restaurant, even though a "private" event is occurring. Partial buyouts are great for restaurants with private dining rooms that allow a party to feel private and exclusive, even when the restaurant has other guests.
Benefits: If a restaurant has the right space, partial buyouts allow it to "have its cake and eat it too," hosting private events while also generating revenue from the public. This means it gets the benefit of guaranteed revenue without the drawback of losing sales from normal service — which is especially important on New Year's Eve, the most popular party night of the year.
Drawbacks: Although partial buyouts are open to the public, they limit the amount of space available to them. On a night like New Year's Eve, this means a restaurant still sacrifices some financial upside for the safety of guaranteed revenue. When marketed and planned incorrectly, a partial buyout can also create a bad experience for members of the private event, who may find that the public partygoers ruin the experience they imagined. Because of this, it's extra important for restaurants to be transparent and set expectations with private parties ahead of the event.
3. New Year's Eve Event With Reservations
Overview: Rather than raucous parties, some restaurants create tamer New Year's Eve events for diners. These typically involve a prix-fixe menu, specialty cocktails and complimentary champagne to join in on a collective midnight toast. The restaurant books the same tables they would on a normal night, except they only seat reservations rather than walk-ins. 
Benefits: New Year's Eve event reservations benefit restaurants in a number of ways. First, they give operators a window into how many guests to expect for the evening. Plus, with platforms like Resy, restaurants are given important allergy and dietary information per guest prior to the event, which streamlines kitchen operations. Second, reservations allow operators to prepare the appropriate amount of supplies needed and schedule staff so that the event runs as smoothly as possible. 
Drawbacks: With a reservations-only arrangement, the fixed menu and fixed seat limit caps how much alcohol the restaurant could potentially sell to the general public on the biggest party night of the year. Additionally, guests may fail to cancel or show up for their reservation, negatively affecting the restaurant's sales projections for the evening. To combat this, restaurants can require a deposit at the time of booking or even collect a fee for no-shows or last-minute cancellations via their reservation system. However, despite these solutions, restaurants will still lose out on the full revenue potential had guests not canceled or no-showed in the first place. 
4. New Year's Eve Ticketed Event 
Overview: Ticketed events are similar to reservation events, but differ because tickets are paid for in advance, while reservations are typically free to book upfront. Tickets can be sold in-person or through online restaurant ticketing, the latter of which is important because it opens the door to email, social and other digital marketing tactics,
Benefits: Ticketed events are a great way for restaurants to collect upfront revenue, reduce the monetary risk of "no-shows" and obtain accurate guest lists that help prepare the event in advance, streamlining operations. Additionally, depending on how a restaurant runs its event, they are only constrained by the number of people they can fit — not the number of people they can sit. This means they can get more people through the door on a night where people tend to spend a lot of money. 
Drawbacks: Ticket sales largely depend t on the restaurant's marketing efforts. If restaurants don't build enough buzz and momentum around the big night, the event will fall flat. Additionally, if your event is more of a "party" than an elevated dining experience — as ticketed events often are — ticket prices will likely be lower than the price of a prix fixe menu. This creates a trade-off for restaurants: On one hand, ticket sales reduce the monetary risk of "no-shows;" on the other hand, they'll need to upsell their guests beyond what's included with the ticket to maximize revenue.
RESOURCE
29 Holiday Decoration Ideas for Restaurants
Find visual examples of real holiday decor for Halloween, Thanksgiving, Christmas and New Year's Eve from successful concepts.

New Year's Eve Restaurant Event Checklist
Once a restaurant opens the idea of hosting a New Year's Eve event, they must take a series of steps to ensure it goes off without a hitch. Having a well-thought-out planning process and checklist will help a restaurant check off to-do items and set them up for success.
1. Finalize The Event Type and Theme
Before a restaurant can host a big New Year's Eve bash, it must begin the planning process. The first step is deciding what type of event to host, determining what the theme will be (if there is one) and developing the appropriate assets for that theme.
Decide The Event Type: Restaurants must first determine what type of event to host: a full buyout, partial buyout, event with reservations or ticketed event. This will inform all the other details of the event.
Determine The Event Theme and Name: A good party needs a theme. Whether it's roaring twenties, black-tie or a disco party, themes and dress codes add an air of intrigue and are just plain fun. Halifax, the restaurant at the W Hotel in Hoboken, New Jersey, is hosting a Masquerade Ball and asking guests to dress to impress in formal attire and masquerade masks.
Develop The Visual Style and Promotional Assets: Just like the restaurant's brand, a good New Year's Eve event needs a well-defined visual style. This helps guests commit to the theme of the evening, both before the event (through marketing materials) and during the event (through on-site collateral). Marketing assets can include digital and printed flyers, social media content and photography that spans across channels. In the example below, Chicago restaurant The Pony promotes its New Year's Eve event with a digital flyer on its website. If you don't know where to start, try these premade examples from the BentoBox design team.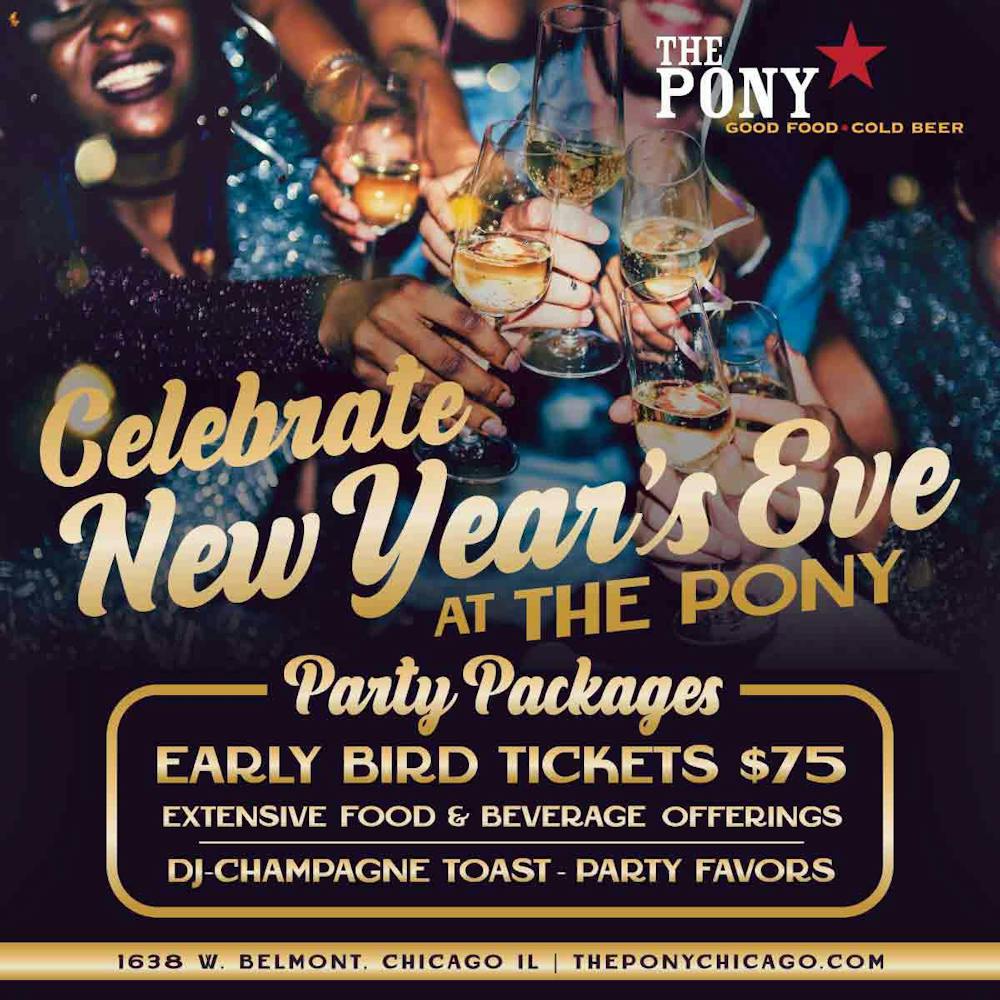 2. Plan Pre-Event Logistics
The next line item in the planning process involves pre-event logistics. What type of menu will the restaurant serve? What will the menu consist of? How will the evening develop? These are all things to plan before a restaurant can start marketing its New Year's Eve event. 
Determine The Menu Type: When planning a New Year's Eve dinner or event, restaurants must determine what type of menu they'll serve. Namely, will they offer their regular food and drink menus or create special dishes for the evening? The event type is most important in determining the menu type. For a full buyout, restaurants might elect to serve a catering-style menu, whereas a dinner event with reservations might call for a six-course prix-fixe dinner. The latter is a popular choice for New Year's Eve as it offers diners a unique opportunity to try a plethora of special dishes. 
Develop The Menu: Once a restaurant selects the type of menu it will serve, it must develop the dishes on that menu. New Year's Eve is a night that people get dressed up and plan on spending money on good food and drinks. Therefore, restaurants can expect as much and serve dishes that diners are willing to splurge on. Special event menus can range from the unique to the opulent that are typically reserved for these special occasions — e.g. caviar, oysters, lobster, and filet mignon, all washed down with grand cru champagne. 
Order Provisions: Planning and purchasing provisions is a vital part of the process. Prix-fixe menus are often small and limited, which is helpful because operators can plan and order the appropriate amount of food in advance. Given the supply chain issues that have affected the restaurant industry, getting ahead of this step is more important than ever.
Plan For When The Ball Drops (and After): The pinnacle moment on New Year's Eve is the countdown to the new year. Restaurants must choose how to celebrate this moment with their guests. Complimentary champagne flutes are popular but also expected; do you have a unique idea to make the moment extra special? Beyond that, after the ball drops, will you wind the night to a close or stay open for a late-night party?
3. Gather The Necessary Supplies & Vendors
Once the event's theme and menu have been finalized, it's time to source the necessary supplies, equipment, vendors and entertainers.  
Food & Beverage Ordering: This is arguably the most vital step in the event planning process. What good is a party that runs out of food or drinks? Restaurants need to first consider the global supply chain issues plaguing the restaurant industry and beyond, which is driving up prices, from produce to meat and poultry. One way they can combat higher prices and ensure guests leave happy and well-fed is by being overtly precise with how much they order. Underordering or overordering can both lead to problems, from not having enough of a certain dish for guests or having excess inventory that serves no use and eventually goes bad. 
Vendors and Entertainment: Plan on having entertainment for the evening? What about a photobooth for guests? Whether it's a band, DJ, illusionist, photobooth or any act or vendor that fits the theme of the night, entertainment can elevate any New Year's Eve party. Restaurants must seek out and book entertainment well in advance to secure their place in the evening's lineup. Musical acts, in particular, require planning since you'll want to include them in marketing materials, whereas something like a photo booth works as a pleasant surprise for partygoers.
Party Supplies: Restaurants can — and should — have fun with their celebrations. For example, when the clock nears midnight, they can hand out party supplies like hats, streamers and noisemakers. It's a small touch, but party supplies like these add a fun and interactive element to the night's events. 
4. Spread the Word
At this point, a restaurant has determined its New Year's Eve event type, set a theme, created a menu and planned the evening's logistics. Now, they must spread the word about the awesome event they're throwing. They can use several methods and channels to do this.
Add The Event To Your Website: All roads lead back to a restaurant's website. It's the most important tool in a restaurant's marketing toolkit, a central hub where visitors discover new restaurants, view their menus and order online. Restaurants should capitalize on this by promoting events and happenings on their website, typically with a dedicated events page. With a growth-focused website platform like BentoBox, they can also issue pop-up alerts on their homepage and seamlessly sell event tickets online.
Send Promotional Emails: Email is another key marketing tool for restaurants. The email addresses a restaurant captures are from diners who have patronized the restaurant, which makes them the target audience for big events like New Year's Eve. The sooner the previous steps are completed, the sooner restaurants can start sending emails promoting the event to this audience. Guests may not convert the first time they see an email, but as long as the emails are clear, concise and make it easy to book reservations or purchase tickets, this channel will drive people through the door. 
Post On Social Media: Social media is a fantastic channel for discovery and inspiration. Followers of your pages use it to learn more about your brand, view food photos and hear about future happenings. That's why restaurants should post often about big events like New Year's Eve, as Library Bar at Toronto's Fairmont Hotel did on Instagram earlier this year.
Market to Diners On-Premises: Every diner in your restaurant is a potential New Year's Eve guest, and you'll never have their attention for longer than when they are dining on-premises. On-site marketing assets promoting the event will intrigue guests who think the ambiance would fit for their New Year's Eve celebration. Where and how you distribute these assets depends on what type of restaurant you operate — a sports bar is more likely than a fine-dining restaurant to promote New Year's Eve drink specials on bathroom posters  — but every restaurant can and should find a brand-appropriate way to do this.
Consider Non-Owned Marketing Channels: Websites, email, social media and the restaurant itself are all considered "owned" marketing channels: places the restaurant controls. There is also value in promoting the event on non-owned channels such as newspapers, local bloggers and even local Facebook groups. Not every restaurant can afford a PR company to help them land big press placements, but the internet is changing how people get information, and restaurants with smaller budgets can take advantage.
5. Prep for the NYE Event At Least One Week Out
Now that the event is being promoted across channels, and people are making reservations or purchasing tickets, restaurants have only a few more items to check off their to-do list. 
Review Bookings, Schedule Staff and Prep Accordingly: As restaurants approach the end of the year, they should check the books and note the number of reservations or tickets sold. From there, they can more accurately determine how much time is needed for preparing the front and back of house for the event. This includes food prep, decorating and scheduling staff. 
Plan For Any Last-Minute Changes: At this point, restaurants can feel good that all logistics and preparations are accounted for, but that doesn't mean they're set in stone. A good rule of thumb is to always expect the unexpected. Operators must stay on their toes and be prepared to pivot if the situation calls for it. This is a good mindset to take into the night of the party.
Host a Brilliant New Year's Eve Restaurant Event
The doors are open and guests are flowing in for a night of revelry with friends and family. The menus are set and food is landing on diners' tables. The atmosphere is festive and cheerful, aided by a litany of libations and good conversation. The countdown to the new year is nigh. 
Operators can take this opportunity to appreciate the evening and join in on the fun. Events like these are perfect for canvasing the room and connecting with guests — fostering stronger relationships and creating more loyal diners in the process.
So go ahead. Hold your glass up. You've earned it. 
Demo Request
14,000+ restaurants trust BentoBox
Increase your profits and elevate your guest experience with a digital storefront that keeps diners coming back.
Recommended