Operations
How to Create a Restaurant Menu (and Optimize it for Takeout & Delivery)
June 8, 2021
Learn how to create a restaurant menu from scratch, continuously improve it and optimize it for off-premise dining options.
A restaurant's menu is its biggest magnet. In order to build a loyal group of patrons, restaurants need to create a unique, fairly priced menu that offers fresh and reliable food and drink options. 
According to a survey by Harris Poll, 85% of Americans cite the quality of food as a key reason for choosing a restaurant, while 69% said the same about the price of food. This means that the type, value and quality of food is ultimately what the majority of diners consider primary motivators for deciding where to go out to eat. 
When opening a restaurant, the process of creating a menu can differ drastically. Franchisees might have little-to-no say in their menu, which could be dictated by corporate offices and franchisors. However, for independent restaurant owners opening up a new location, there's endless work that goes into choosing food vendors, selecting menu items, designing dining room menus, promoting the menu online and adjusting a menu for profitability over time. 
Plus, it's clear that off-premise dining is here to stay – with 53% of all adults saying takeout and delivery is "essential" to the way they live. Restaurants need to be equipped to offer takeout and delivery to appeal to these guests. While this means kitchens need to be stocked with to-go containers, it also means the restaurant's menu might need to be built and optimized specifically for these options. 
It's clear that restaurants need to build a diligently planned, designed, priced and optimized menu to check off all of these boxes – and this post will explain how to do just that. 
How to Create a Restaurant Menu From Scratch
1. Honor the Restaurant's Concept
The first step in creating a restaurant menu is taking a step back and acknowledging the intended concept for the restaurant. To start, it's important for a restaurant to focus on doing a few things extremely well. 
For example, a new pizzeria should focus most of its effort on sourcing high-quality pizza ingredients, creating unique pizza recipes and topping combinations and securing necessary kitchen equipment to cook perfect pizzas. 
Once that step is taken care of, the pizzeria can focus on two other areas: supplements and tradeoffs. Restaurants should supplement their core cuisine with appropriate other dishes. For a pizzeria, that might include salads, sandwiches and pasta dishes. 
At this stage, restaurants should also take time to recognize their tradeoffs – or menu items they are purposely avoiding to hone in on their concept. For a new pizzeria, tradeoffs may include breakfast foods, signature cocktails or baked goods. No restaurant can be everything to every diner, and the larger the menu gets, the more difficult it can be to streamline kitchen operations and determine which dishes customers truly love.
2. Break Down the Menu by Section
Once the restaurant knows where to focus its menu, it becomes easy to categorize different dishes into sections on the menu. A high-end steakhouse, for instance, might create menu buckets for:
Apps & Starters

Soups & Salads

Chicken Entrees

Steak Entrees 

Seafood Entrees

Pasta Entrees

Desserts
There are two ways to go about this step. First is to think through which of these sections the restaurant's ideal menu would have, then add certain dishes to them. The other way is to look at the dishes envisioned for the restaurant, divide them into categories and further build out sections from there. 
Regardless, categorizing a menu not only helps customers find what they want to eat easier, it's also beneficial to management. Choosing ingredients, managing inventory and eventually reporting on food sales becomes significantly easier when the menu is organized well.
3. Consider Food Allergies & Dietary Restrictions
While focusing on primary menu items is key, restaurants also need to make sure they're not excluding anyone. A pescatarian should still see something on a steakhouse menu that appeals to them, while a vegetarian should feel the same way at a seafood restaurant. Some guests may also be on a restrictive diet like keto or paleo, and making every single menu item inedible for them could result in losing that guest in addition to friends or family who are dining with them. 
Things get even more complicated when dealing with food allergies. Obviously, not all dishes can be enjoyed by everyone, but whenever possible, a menu should be planned for everyone to enjoy the restaurant's food – and still fit within the concept. For example, an Italian restaurant might stock gluten-free pasta to accommodate patrons with Celiac disease.
4. Set Price Points
Pricing a restaurant menu can be tricky – prices can't be too high to scare away patrons, but can't be so low as to put the restaurant out of business. As a rule of thumb, food cost tends to be about 25-30% of the menu price – but this figure varies. It's not uncommon for items like pasta dishes and desserts to have significantly higher markups than other menu items.
When starting out the business, restaurateurs should reach out to multiple food vendors to see who is willing to offer the best deals for each menu item. Being able to secure the best ingredients for your dishes at the most reasonable price results in the restaurant taking in more profits without sacrificing quality.
5. Design the Menu
Once all the planning is complete, it's time to create the restaurant's customer-facing menu. This is where menu engineering – or the process of carefully and deliberately designing a menu for maximum profitability – comes into play. There are proven psychological tactics that restaurants employ to draw attention to their top menu items. Among them are the visual design of the menu, as well as the descriptions for each dish.
Design
The menu's design makes it more eye-catching. From an aesthetic standpoint, the menu's colors and font selection should be on-brand and easily identifiable with the restaurant – whether it's on the restaurant's website or if it's a printed menu in a guest's hand.
From a menu engineering perspective, finding ways to draw attention to the restaurant's most admired (and profitable) items can be as simple as highlighting them in a unique way. Placing these items at the top of the menu, putting them in a shaded box with bolded font or providing a dedicated section on the menu for them are examples of ways to accomplish this. For example, Cambridge, MA chicken restaurant Shy Bird highlights its popular "SB Dunks" with some simple boxing to differentiate it from the starters, snacks, and sandwiches on its menu.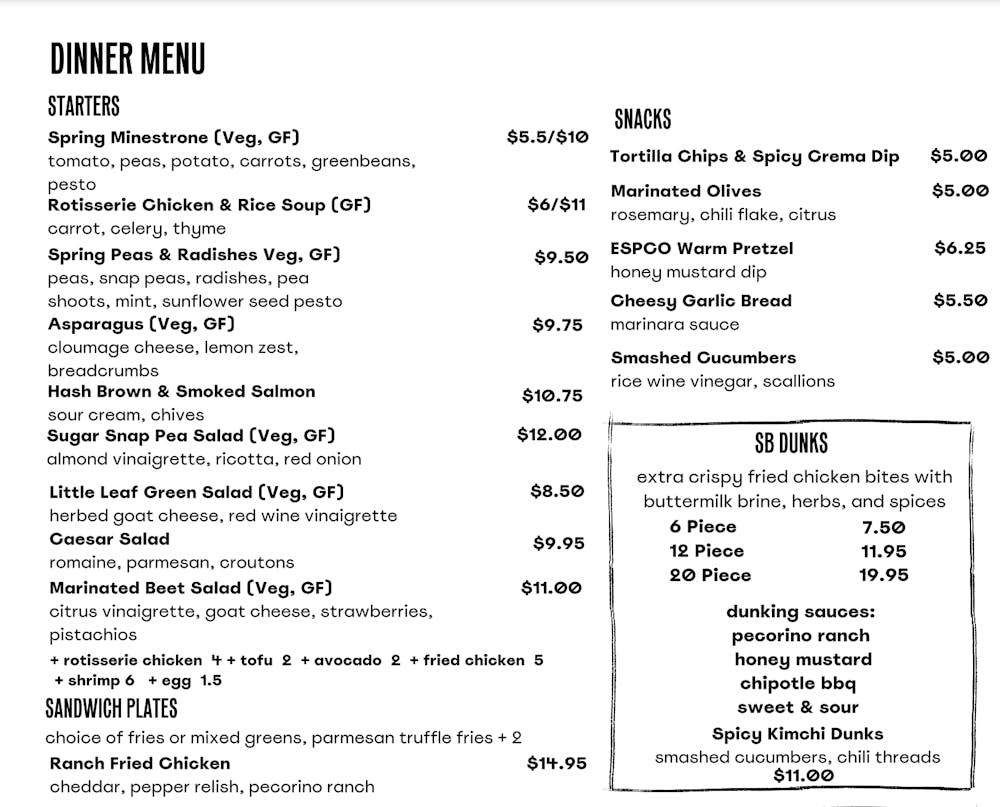 Descriptions
Aside from design, well-worded restaurant menu descriptions can be a strong selling point – particularly for a menu on a restaurant's website. As possible patrons scour the internet for a place to make a reservation or order delivery, menu item descriptions can be the reason why they make their choice. As an example, NYC-based Bubby's includes the food source for its "Bubby's Burger," and uses other terms in menu item descriptions that promise authenticity like "all-natural" and "homemade." The menu's phrasing and word choice paint a picture of exactly what guests should expect.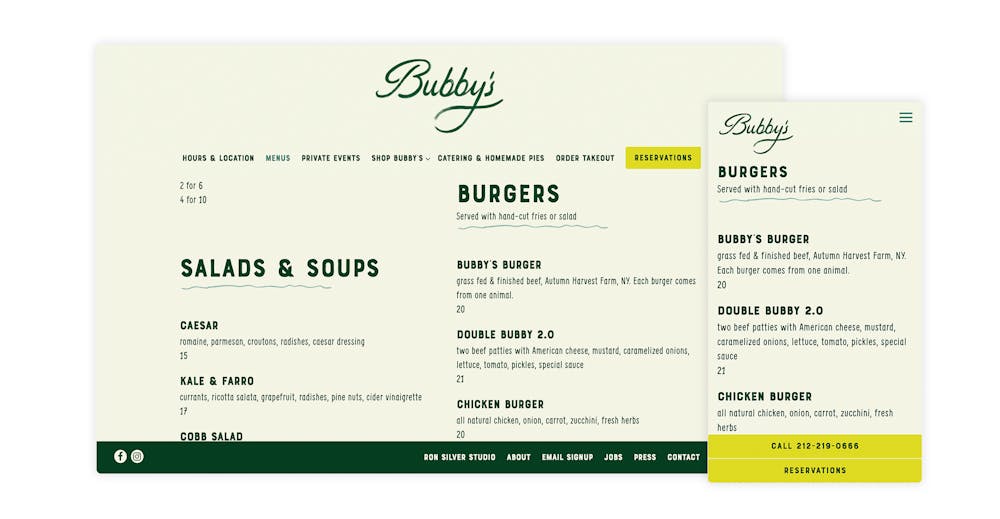 Menu descriptions also play a role in the dining room for guests dining on-premise. With a crystal clear picture of what's on the plate, guests will ask fewer clarifying questions to the waitstaff, which gets orders in quicker, turns tables faster and reduce the chance of a dish being sent back to the kitchen.
6. Upload the Menu to the Restaurant's Website
Once complete, menus should be added to the restaurant's website for easy access by guests. Since 77% of diners look at a restaurant's website before visiting, this move is an essential marketing tactic for the modern restaurant.
Plus, having the restaurant's menu online opens up the doors to digital on-premise ordering and payments. Often prompted by a QR code on their table, guests can use their phones to review the menu, place orders and – when they're finished – pay the tab online.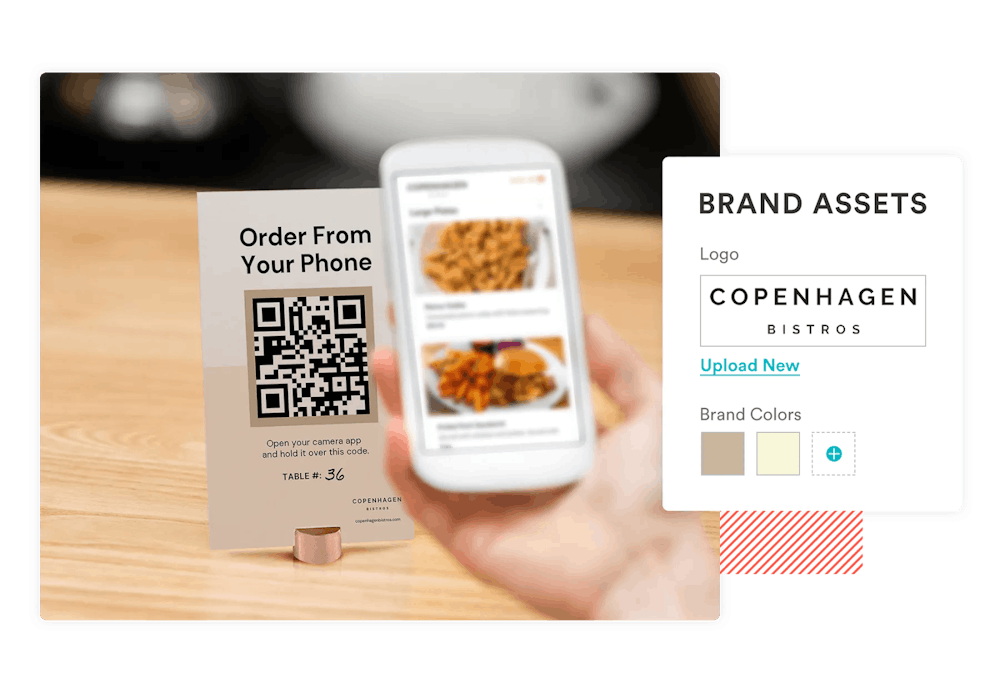 This practice – known as contactless dining – means menu pricing and selection can be changed at any time based on availability, but it's also a powerful marketing tool for restaurants. When paying their bill, guests can opt into a restaurant's loyalty program and receive personalized messaging and offers, which can boost customer engagement and retention.
Finally, as guests continue to return to on-premise dining, contactless dining remains a preferred option by many diners and can help ease a restaurant back into normalcy if it remains short-staffed.
RESOURCE
Restaurant Menu Design & Copywriting
In this e-book, you'll find detailed tips for visual menu design, specific suggestions on menu copywriting and real menu examples from BentoBox customers.
7. Regularly Revisit Menu Options
One other element of menu engineering lies in the regular analysis of the restaurant's menu. Every 6-12 months, the restaurant should analyze every item in each of the menu's sections for its popularity and profitability. Menu items will be classified in one of four ways:
- High profitability, high popularity. These are the menu's stars and should be kept and promoted on the menu.
- High profitability, low popularity. These puzzles need to be slightly adjusted for more popularity. Perhaps allowing guests to sub an ingredient, making it more noticeable on the menu or slightly reducing its price will raise it to star level.
- Low profitability, high popularity. These plowhorses bring guests into the restaurant but could bring its bottom line down. It might be worth reducing portion size, seeking less expensive ingredients or raising the menu price to increase profitability.
- Low profitability, low popularity. Known as dogs, these items should be removed from the menu to streamline back-of-house operations and make way for possible new dishes.
Menu engineering is an actionable, insightful way to keep a restaurant's menu a money maker. This analysis is usually completed using a menu engineering worksheet, which helps visualize the success of these menu items on an X-Y axis.
Want to know more about menu engineering? Watch this ten-minute crash-course video below.
How to Optimize a Restaurant Menu for Takeout and Delivery
The unprecedented growth of online ordering, takeout and delivery is not expected to simmer anytime soon. In fact, the market for online food delivery is projected to grow to be $152 billion by 2024. 
To appeal to the largest number of guests, restaurants need to be prepared to serve this market. Here are a few ways to do just that. 
1. Feature Items That Travel Well
For most dishes, the sooner they're consumed after leaving the kitchen, the better the experience for guests. No one wants to get their hopes up for piping hot wings and pizza, only to open up their boxes of lukewarm food. This could mean excluding certain items from a delivery menu that don't travel well – especially when working with third-party couriers that often deliver multiple orders each trip. However, if the restaurant offers in-house delivery to a smaller radius, preserving temperature might not be as pressing of a need. 
On the other hand, there's some more leniency with takeout than with delivery, as guests typically take the food directly to their homes. Either way, it's worth investing in containers that hold the dish's intended temperature well, as well as separating colder foods from warmer foods in different containers. After all, nobody wants a grilled chicken salad with cold chicken and warm lettuce.
2. Offer Popular Takeout and Delivery Options
To tap into the delivery market, a restaurant's menu doesn't necessarily need popular delivery options such as sandwiches and fried chicken, since those menu items may conflict with a restaurant's tradeoffs.
Instead of adding or deleting menu options, it might be worth making specific options for off-premise dining. Seamore's, a sustainable seafood restaurant in New York City, simply reconfigured its menu during the pandemic after moving to a takeout-only model. In doing so, they kept with the concept of their restaurant, yet were able to package many of their popular offerings into at-home meal kits, thus appealing to families and couples with unique and engaging to-go options.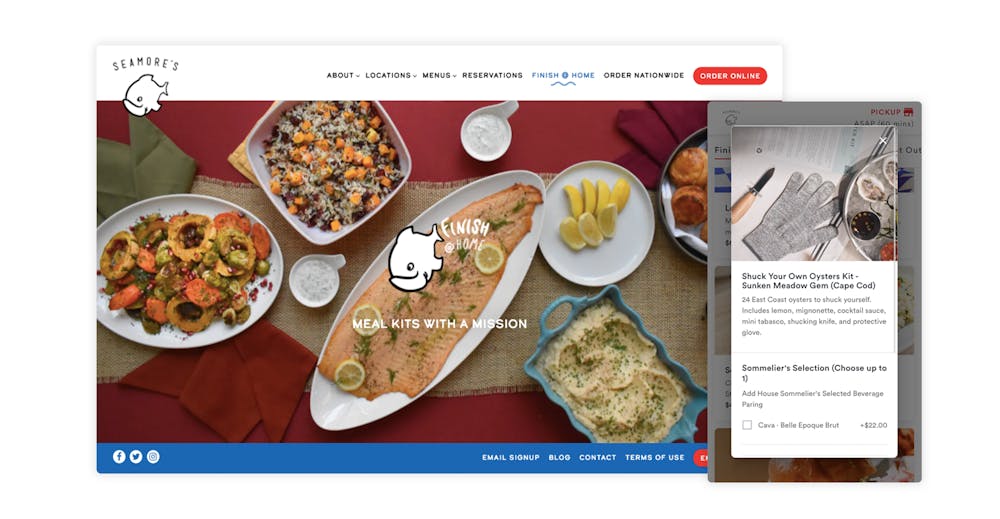 For restaurants that sell alcohol, it's also worth looking into whether the area allows the sale of cocktail kits to-go. With these, guests can make the bar's signature cocktail with a recipe and pre-measured kit of ingredients (at a high margin for the business). Dine Machine offers cocktail kits for sale through their website.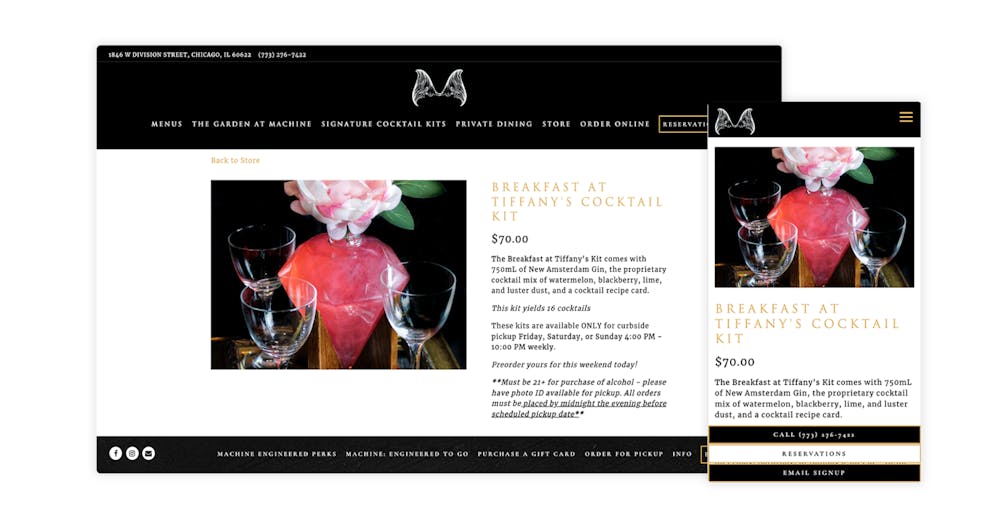 3. Optimize the Restaurant's Online Ordering
A restaurant's website cannot be overlooked – specifically when it comes to online ordering. An online ordering system managed through the restaurant's website allows complete customization of which menu options are available and is designed to reflect the restaurant's branding.
For example, with BentoBox, restaurants can single out their most popular options for online ordering in a dedicated section of the menu. Restaurants using BentoBox can also add in custom imagery of their food and descriptions of menu items. 
Direct online ordering also gives the restaurant complete control over the experience. From getting rid of third-party commission fees to collecting valuable guest data to instantly updating the availability of menu items, running a restaurant's online ordering system through its website keeps the experience in the hands of the business. 
To learn more about how BentoBox can help your restaurant optimize its menu for takeout, delivery and on-premise dining, click here for a free demo.
Time to Make a Menu
After narrowing down a concept, choosing menu items and categories, and designing a restaurant's menu in print and online, restaurants will have a solid foundation to build a business, generate revenue and welcome enthusiastic, repeat guests into their business. 
Remember, the best way to reach these customers is online with a restaurant website and online ordering – and it's imperative to have these essentials in place when opening up a restaurant.
Demo Request
14,000+ restaurants trust BentoBox
Increase your profits and elevate your guest experience with a digital storefront that keeps diners coming back.
Recommended