Holidays
5 Quick Restaurant Marketing Ideas for Mother's Day
April 28, 2021
How to use social media, email, restaurant loyalty programs and promo codes to maximize profits this Mother's Day
Historically, Mother's Day brunch is one of the busiest services of the year for restaurants — up to 92 million Americans dine out on this day, according to the National Restaurant Association. The demand for reservations is highly competitive, with diners often left scrambling to make last-minute plans. Even with a nation reopening, Mother's Day is set to look a little different than Mother's Days' of the past.
RESOURCE
The Ultimate 2023 Restaurant Calendar
Get ideas for driving revenue on major holidays like the Super Bowl and Valentine's Day, see 25+ examples of successful promotions and snag a calendar of 50+ national food days.
Why It's Important to Stand Out Over the Competition
Diners are looking for opportunities to engage with their favorite restaurants, but many will choose to seek alternative ways of doing so this Mother's Day. That includes:
With that, restaurants will need to get the word out about their Mother's Day operations. We put together a list of marketing ideas that restaurants can use to promote their Mother's Day offerings to maximize on-premise and to-go operations over the competition.
5 Quick Restaurant Marketing Ideas This Mother's Day
Restaurants have an array of channels to market themselves — the website, email and social media. Paired with incentives like promo codes and restaurant loyalty programs, they are powerful tools to bring in business.
Heather Dratler, Vice President of Marketing and Brand Integrity at Sage Restaurant Concepts explains how the scope of channels, and how driving back to the website, is fundamental in their marketing efforts.
"We use the full breadth of marketing channels that are available to us – social media, email marketing, Google My Business posts, Yelp CTAs, etc. We typically drive traffic back to our website, particularly the "Happenings" page, as the first step in the marketing funnel."
Knowing what tools restaurants have at their disposal can help them in optimizing each channel to market their offerings and increase reservations, online orders and drive revenue this Mother's Day. 
PRODUCT
Websites for Restaurants
Get a beautifully designed website with tools to grow your business.
1. Optimize the Website to Promote Reservations, Events, Catering and Takeout
Restaurants need a digital storefront as much as they do a physical one. The website is the first place that curious diners visit before deciding to dine with you. Restaurants can utilize website pages, eCommerce tools, a catering store and online ordering to spotlight all of their great Mother's Day offerings.
The Corner Office, restaurant and bar in Denver, CO is one of Sage Restaurant Concepts celebrated restaurants. They use this feature to their advantage to promote this year's Mother's Day specials. Heather explains how and why the website is such an important place to promote happenings and new seasonal menus.
"We use the website to promote everything going on at the restaurant – special menus, promotions, limited-time offers, etc. For example, at The Corner Office we are currently also using our "Happenings" section to promote our Restaurant Week menu, and previously used it to promote holiday specials."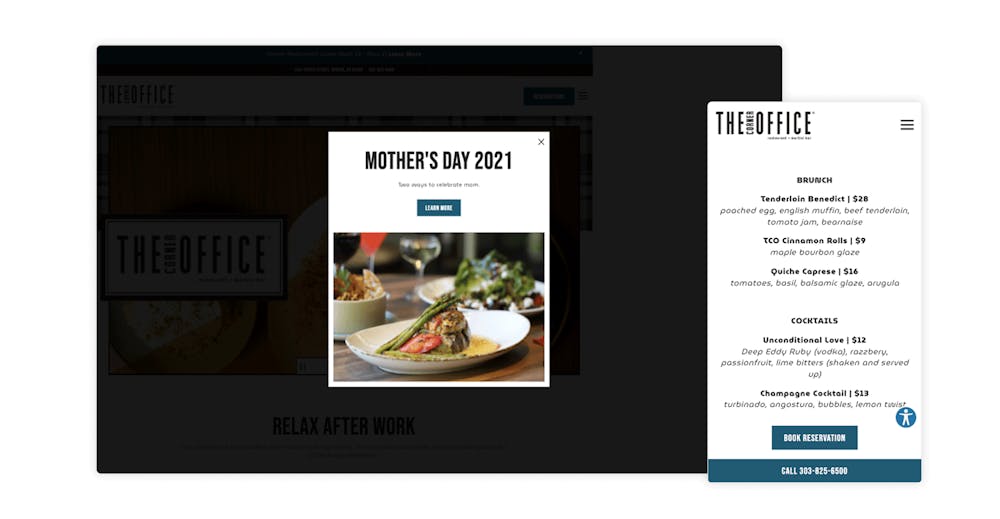 Another powerful feature of the website is homepage alerts. They're a great way to promote current happenings as soon as a guest enters the website. Heather agrees. "We UTM tag all links on our site, and as a result, have seen our homepage alerts perform very well. Guests are clicking through to view the information we promote on our happenings page."
And when it comes to driving traffic to that specific page, Heather adds, "We also track reservations with trackable OpenTable links on our happenings pages, and our restaurant website happenings are one of our top converters for reservations."
In this regard, the website acts as a central hub to promote and detail all of the happenings inside of the restaurant.
2. Email Subscribers About Mother's Day Promotions
Email has long been a powerful tool at a restaurant's disposal. However, a past pain point has been gathering the contact information of diners. Today, It's never been easier. First and foremost, restaurants should utilize signup features across their website to capture email addresses. For loyal customers, this is how they will learn about new menus, events and promotions at the restaurant.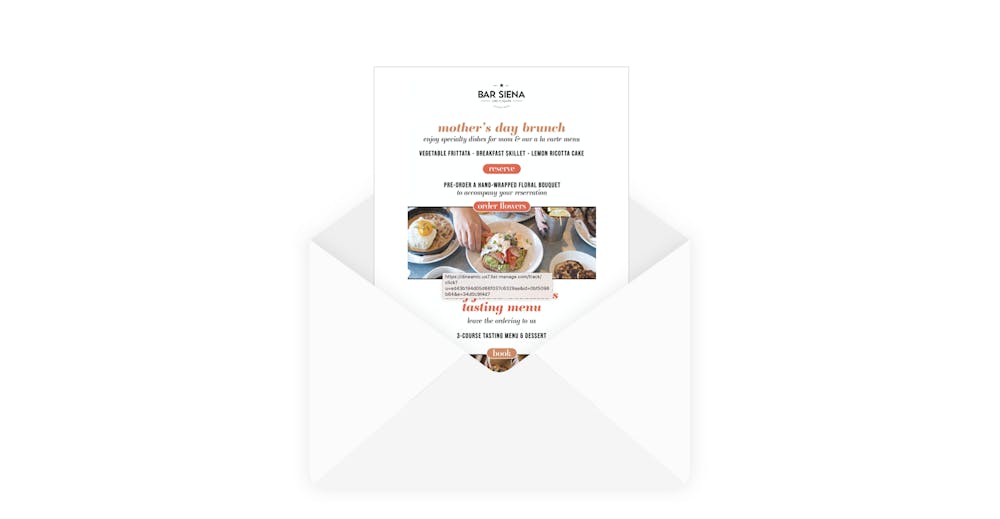 Then, restaurants can send marketing emails to their list of subscribers that highlights Mother's Day offerings. Bar Siena promotes "Mother's Day Brunch" in their latest marketing campaigns, enticing diners to make a reservation or even order hand-wrapped flower bouquets to accompany their booking. Emails to customers are ideal ways to connect with the most loyal of guests to get their business.
Even further, restaurants can turn to other sources to capture key contact information. Direct online ordering and tableside ordering are two great examples. When a diner orders directly from a restaurant's online ordering platform, such as Bento Ordering, all of their contact information is saved in the backend, which can be exported to any email marketing platform the restaurant uses. Similarly, for on-premise diners, tableside ordering systems like Dine-in Ordering, allow diners to browse menus, order and pay all from their mobile devices. This system not only optimizes on-premise operations but uses the same platform as Bento Ordering, giving restaurants access to even more diner information for remarketing opportunities.
3. Use Restaurant Loyalty Programs to Drive Repeat Diners
Loyalty programs are powerful marketing tools that drive repeat business. In the realm of restaurants, diners are brought into loyalty programs after their first purchase and then incentivized to purchase more to reach a milestone that results in a reward. These rewards can be promos codes for 5% off a purchase, a free dessert, or even a free meal on the house. It's up to the restaurants to decide how they reward their loyal diners. This Mother's Day, use loyalty programs to incentivize diners to purchase Mother's Day specials. For BentoBox customers, Repeat Rewards is a customer loyalty program that is free for online ordering customers and easy to turn on in the BentoBox backend.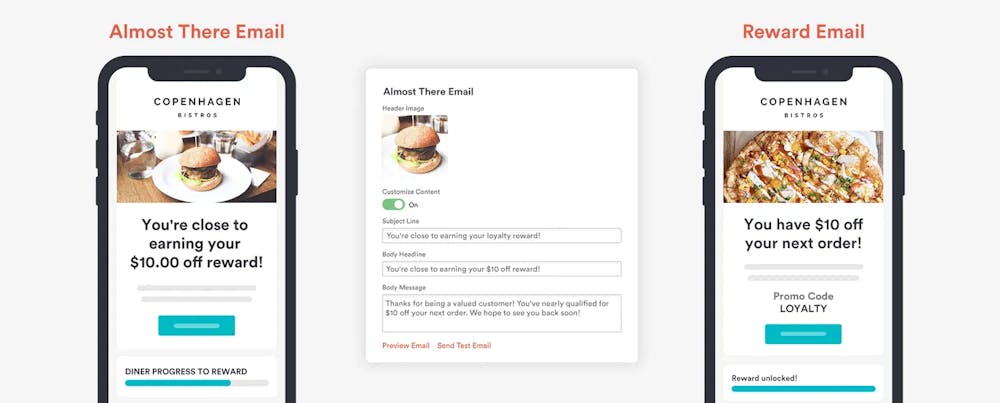 4. Use Promo Codes to Increase Online Orders
Alongside loyalty programs, offering promo codes is a great method to engage customers and drive profits this Mother's Day. Restaurants can use them to great effect by including them in marketing emails or even posting to social media channels. BentoBox makes it easy to set up promo codes on the backend so that diners can input promo codes at check out. Restaurants can add a homepage alert with messaging similar to "Save XX%/$XX on [offer] today! Use code [promo code at checkout.]" We also recommend posting promo codes on social media, adding a Google My Business post
5. Post on Social Media to Engage and Convert Followers
Last but not least, social media is one of the greatest channels for restaurants to get discovered and bring in new customers. Platforms such as Instagram can build a restaurant's brand, increase awareness and engagement while connecting directly with followers. Restaurants can use apps like Instagram to promote new menus, specials and upcoming events. For a busy holiday like Mother's Day, using social media as a marketing tool is a no-brainer.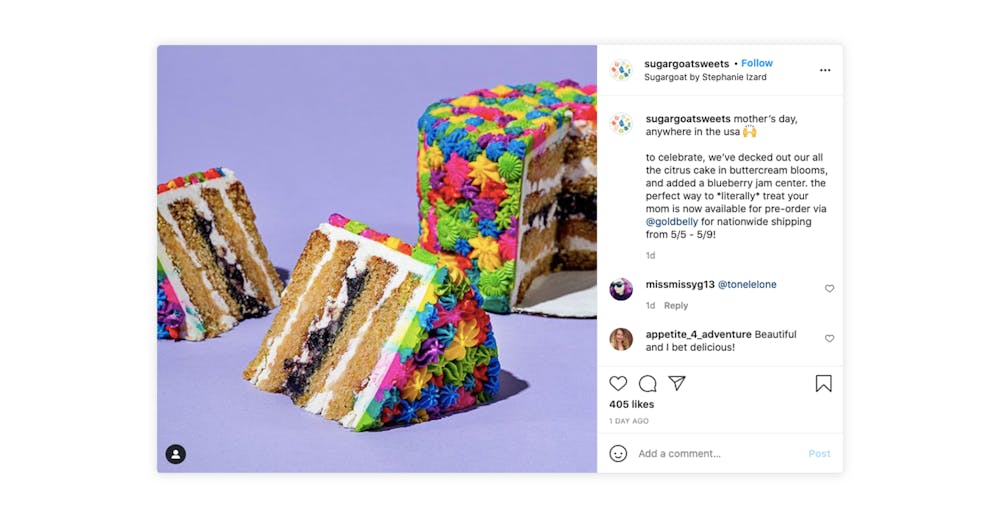 The beloved Chicago bakery, Sugargoat Sweets by Stephanie Izard, not only sells landmark cakes, cupcakes and cookies directly on their website, guests nationwide can enjoy their offerings this Mother's Day by ordering through the website. Sugargoat Sweets uses Instagram to promote this to their community of followers.
RESOURCE
25 Creative Restaurant Instagram Ideas
Inspiration from the largest restaurant social accounts, with advice on how to apply it to your own strategy.
What Types of Offerings to Market to Diners This Mother's Day
Understanding how and where to market special Mother's Day offerings is part of the equation but now it's time to get creative. See how and what these restaurants and bakeries are offering to their guests this holiday.
Sell Tickets in Place of Reservations
Websites today come packed with commerce tools built to drive additional revenue and help build brand loyalty — from merchandise and gift kits to tickets for special events. As Mother's Day is such a big day for on-premise dining, many restaurants are still operating with restrain, limiting capacity to help combat the spread of COVID-19.
This is where tickets work to the restaurant's advantage. Restaurants can sell tickets in place of reservations. It's an easy way to receive money for the meal upfront, with the possibility of upselling during service. Another advantage to offering a set amount of tickets is that the restaurant can better avoid last-minute cancellations and have a headcount of diners which allows them to plan and prepare for a flawless service. First and South Bar & Restaurant sells "Mother's Day(s) Reservation" tickets for the entire holiday weekend. For $25, the restaurant can plan ahead and better prepare food costs, order enough liquor and wine and staff accordingly.
PRODUCT
Restaurant Ticketing
Sell tickets and manage event details through your restaurant website.
Consider Meal-kits, Catering and Prix-fixe Online Ordering This Mother's Day
Amidst the COVID-19 pandemic, the industry saw the rise in new trends, especially the heavy adoption of meal kits and cocktail kits. Claudine, a Los Angeles-based kitchen and bakeshop offers "Mother's Day Mimosa Kits" for sale through their online catering store, alongside an array of catering options like family brunch, pies and sides. It's a unique opportunity to give guests something a bit different while still giving them a small aspect of the Claudine experience.
Additionally, restaurants should consider prix-fixe menu options for pickup and delivery. For a set price, guests can order a three-course meal from The Chase in Toronto, a relaxing at-home experience for Mother's Day diners who opt for a night in.
Get Started
Marketing Mother's Day offerings is a multi-faceted campaign that consists of multiple methods across a variety of channels and platforms. From email marketing to social media, promo codes to loyalty programs, there is no shortage of ways to increase bookings and drive more revenue. For restaurants who are interested in eCommerce capabilities through a restaurant website, get in touch with a BentoBox specialist today or reach out to your customer success manager to learn more.
Recommended