Marketing
SEO Tips for Restaurant Websites
September 18, 2020
Learn some SEO best practices that restaurants can use to boost their local rankings online.
The world of Search Engine Optimization (SEO) seems at times complex, but there are simple things restaurant owners can do to establish higher rankings on search engines such as Google. SEO is the process of getting more site visitors by using targeted restaurant SEO keywords throughout your website. SEO best practices are constantly evolving with every search query made. After all, what informs best practices is how we collectively use the internet. Restaurants should be aware of the positive effect that best practices have on their business. We last wrote about SEO tips in 2017. While some essential information has remained the same, much of what we know about SEO has evolved. We talked with Boris Zilberman, SEO Specialist at BentoBox to learn about the latest in SEO and current best practices.  
PRODUCT
Restaurant SEO Services
Make sure your restaurant shows up as a top search result. We'll help you reach local customers with keywords, target and SEO best practices.
What are 5 tips for restaurants to rank higher in local searches?
1. Have a mobile-friendly website.
Almost 60% of customers visit a restaurant's website from their mobile devices. For some sites, the strength of the mobile site actually determines the strength of the desktop site. It's extremely important that your restaurant website is responsive to different devices and loads quickly. A poor mobile experience leads to lost customers and ultimately less revenue. BentoBox websites are 100% responsive and mobile-optimized to create a better user experience.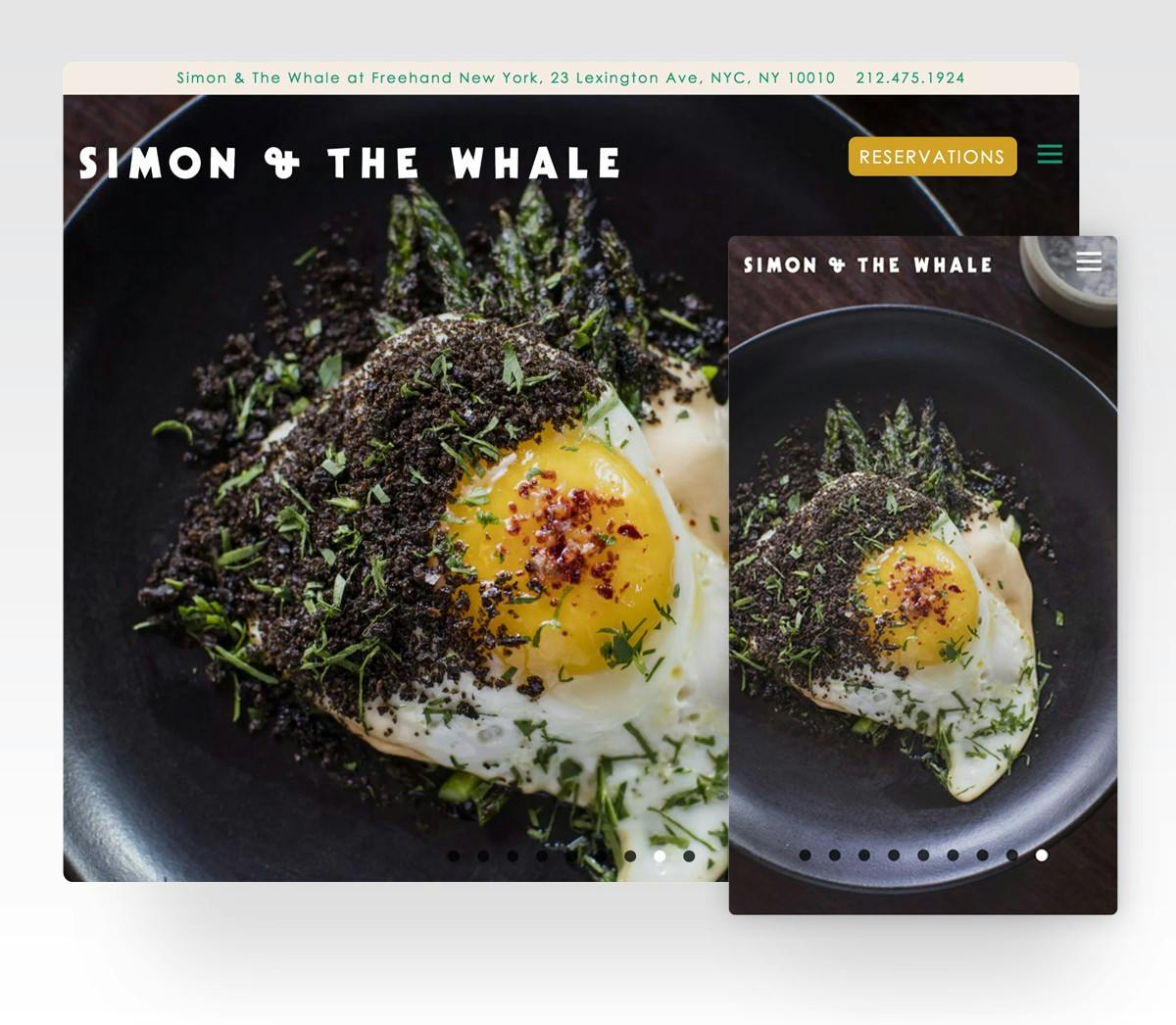 An example of a mobile-responsive website.
2. Use keywords that best describe your restaurant.
Just because you think your restaurant should rank for "fine Italian food" doesn't mean that search engines do too. Use Google Trends to find real, metric-based info on what keywords are being searched for in your geo-region or scour your own restaurant's reviews on Google and Yelp. What keywords do people use to describe you in reviews? How do people talk about the ambiance, the menu, the service, the decor, etc? Use those same keywords across your site.
An example of using keywords in Google search.
3. Register your website with Google My Business (GMB).
The reality is that for Google, entering your information (including your website, menus, etc) into Google My Business (GMB) is important to local rankings. Don't forget to add your menu URL in the "Info" tab. If your Google My Business restaurant menu items show up on the mobile version of your listing, you also need to make sure to keep those item names and prices up-to-date. LocalSync is a great example of how BentoBox updates menus, hours and location across GMB, Foursquare and Facebook simply when you update that info on your website.  
4. Use appropriate schema markup on your pages.
Schema is a framework of data that can be identified by search engines based on common language. A website using appropriate schema allows search engines to verify it's a restaurant website by its pages. Google is releasing new forms of schema markup all the time. BentoBox supports schema markup for menus, reservations, hours, locations and several other important aspects. They can implement schema themselves, use a third party or join BentoBox where schema markup is automatic to our site templates.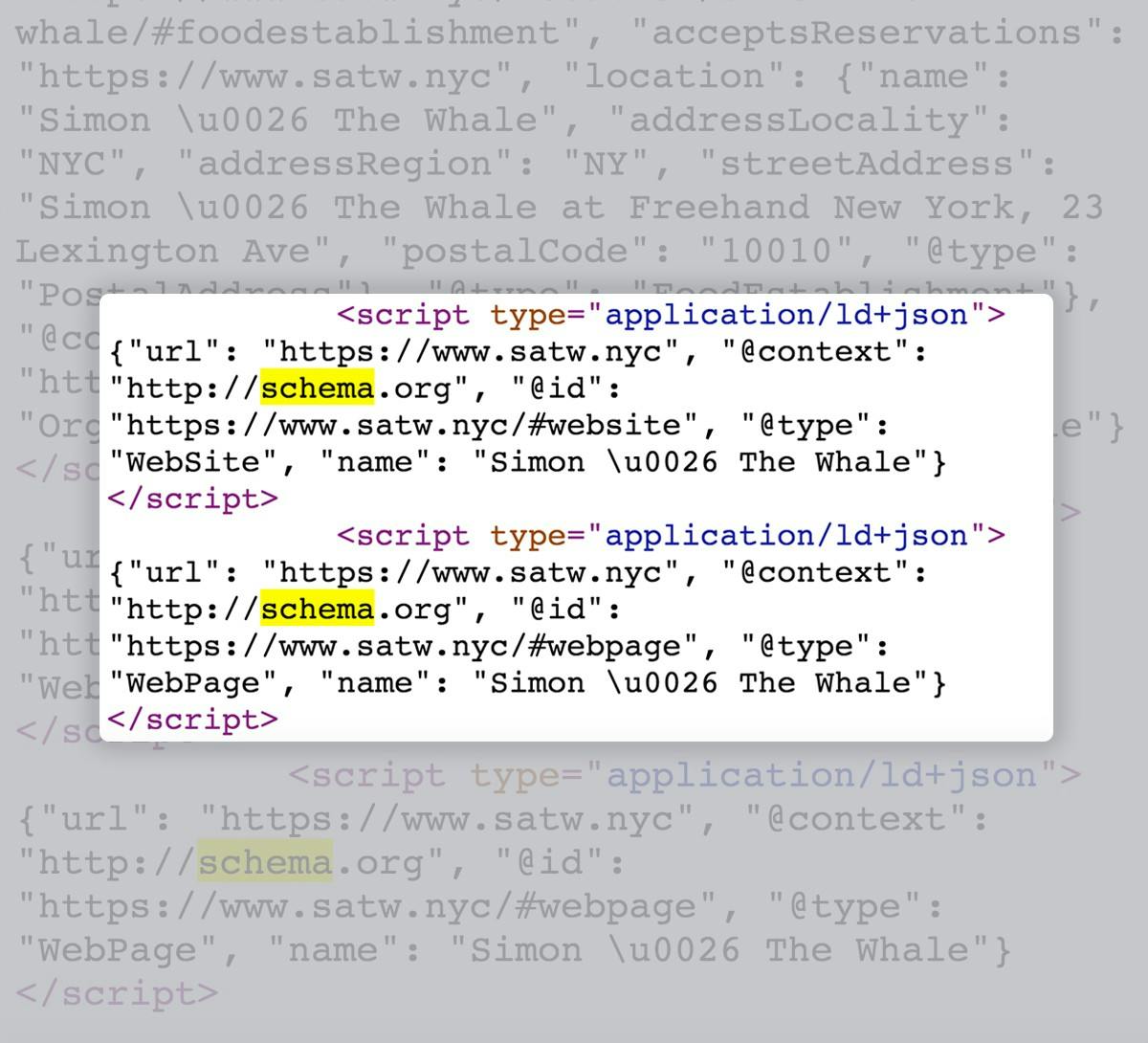 An example of schema markup when viewing the page source of a restaurant's website.
5. Encourage reviews, interactions and social mentions.
Google measures this engagement as a degree of overall site health. The more people are talking about your business, the more likely Google is to understand the website is important and relevant. Users should encourage reviews across social platforms like Facebook as well as Google My Business.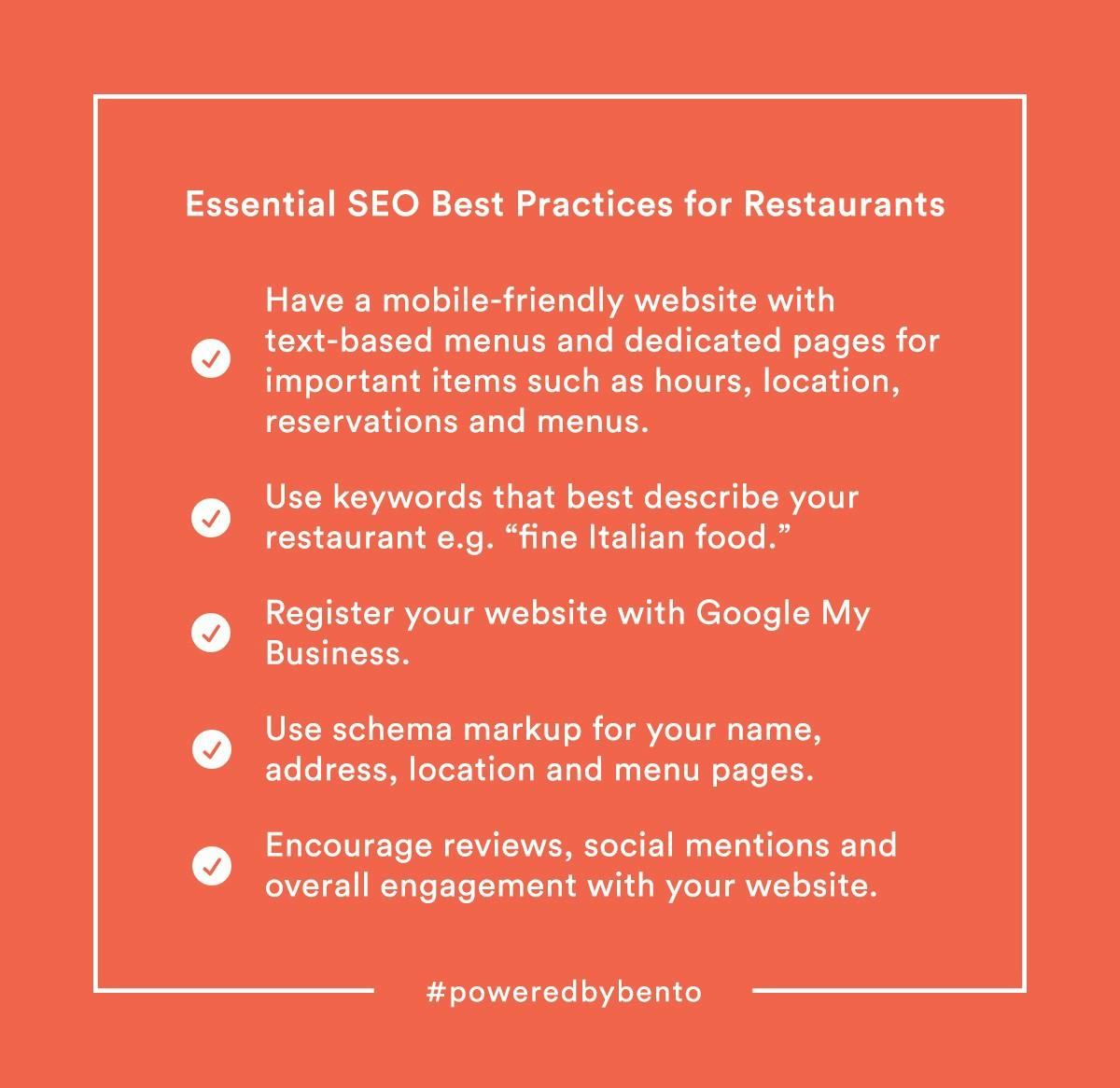 What is readability and how important is it?
Readability is still important. The goal is to get information to your guests as quickly and efficiently as possible. Think of Google and the user as the same thing for these purposes: someone is coming to your website, what is their first impression? How easy is it to find the info that they might need like hours, addresses and menus? Websites can be in-depth with a ton of content or feature beautiful graphics but if the hours, name, address, phone number and menus aren't readily available, your website will have a higher bounce rate; which is a negative ranking factor.
RESOURCE
12 Essential Elements of a Restaurant Website
Take your digital front of house to the next level.
What's important to know about food and drink menus?
It's better to have text-based than image-based menus. Text-based menus make it easy for search engines to understand what your menus say–positively affecting SEO. It also helps the user experience. We know that menus are among the top pages visited on a restaurant's website. Menus need to be easy to read (no more pinching and zooming on the screen) and easy to navigate from section to section. Cutlets is a New York City-based casual deli. Their online menu is a great example of how simple yet functional text-based menus can be.
Should Reservations, Online Ordering and Location have dedicated pages?
Yes, this is still very important, specifically for location pages. Google must understand what your pages are and what purpose they serve. Your location page is going to be important for Google to understand all the details that come with that (name, address, phone number, associated special events or special menu items that are exclusive to that location).
Any additional information that would be helpful for restaurant owners?
Restaurant owners should sign up for Google Analytics if they haven't already. They should pay attention to metrics such as daily website traffic, most popular sources and pages. They should also sign up for Google Search Console (GSC). GSC especially has a ton of useful and actionable search data including real keywords clicked, impressions for particular keywords, click-through rate, top pages, indexing issues, etc. 
Understanding SEO and how it can impact your restaurant in search results is important to the success of your business online by increasing your website's visibility. BentoBox is here to help you out along the way. Get in touch with us to learn more about restaurant websites and how we use these best practices in our designs.
Demo Request
14,000+ restaurants trust BentoBox
Increase your profits and elevate your guest experience with a digital storefront that keeps diners coming back.
Recommended